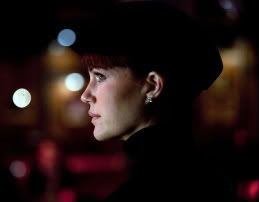 When I first saw that "Girl Walks Into A Bar" was a free movie on YouTube, I had my doubts about how good this film could be. Was I going to see a film student's first try at a film with a thin plot and a bunch of names and faces that I don't recognize?
I sat at the old laptop, got comfortable and clicked on the link. I was expecting a 15- to 20-minute film — and was surprised with an hour and 19-minute feature.
From the first few seconds, it captured my attention, and I soon forgot I was sitting at the laptop. The picture was clear, the scenes and shots were the same as if I had a DVD plugged in, and the people in it? No unfamiliar faces here. It opens with Carla Gugino ("The Watchmen,"Night At The Museum") as Francine Driver sitting down in a bar with Zachary Quinto ("Star Trek," "Heroes") as Nick.
The film — which is embedded below — was written and directed by Sebastian Gutierrez. He tells a story that takes you to over 10 bars in the L.A. area, as a plot line weaves in and out of strangers and their everyday lives. As the movies pops from one bar to the next, there are storylines that don't seem to have to do anything with one another, but, in one way or another, they end up connecting, as often happens in real life.
The familiar faces of Alexis Bledel, Danny Devito, Emmanuelle Chriqui, Josh Hartnett, Amber Valletta, Rosario Dawson, Robert Forster, Xander Berkeley, Gil Bellows and Michelle Ryan are found throughout the movie, which adds to the flavor of the film's characters.
The film moves along at a nice pace, sometimes leaving little cliffhangers as it goes from one bar to the next, but never leaving you hanging as the ends are tied up often with a chuckle. I enjoyed the story, the characters, the little detours of thought and fantasy by the characters, and the look of the film.
For once, sitting in front of the computer screen for over an hour and at YouTube wasn't a total waste of time. Let's hear it for the next film by Mr. Gutierrez.
. . .
Follow Lynn Tackitt on Twitter at http://twitter.com/pvtgiggles.