— by CHERRY BELL DAMASCO-FARRINGTON —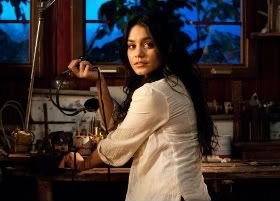 It's been four years since "Journey to the Center of the Earth" — starring Brendan Fraser, Josh Hutcherson and Anita Briem — where the trio discovers that the stories written by Jules Verne were, in fact, true. If you watch the first movie closely, Trevor (Fraser) hands Sean (Hutcherson) another of Verne's beloved tales, "The Mysterious Island," as a bit of light reading to prepare him for their next visit together. In my opinion, it was a lovely tidbit as to what the sequel, if it were ever to be made, would revolve around.
So here we are, four years later, and this time around Hutcherson returns as young scientific explorer Sean Anderson, who along with his step-father, Hank (Dwayne Johnson), cracks a code that Sean has received from his grandfather (Sir Michael Caine) on a mysterious island located somewhere in the Pacific Ocean. With the services of a helicopter tour guide pilot, Gabato (Luis Guzmán), and his lovely daughter Kailani (Vanessa Hudgens), the group sets out to find the island, but they are caught in a freak storm that lands them on an unknown island.
Unfortunately, Brendan Fraser does not return for the sequel and neither does Anita Briem (due to scheduling conflicts), but with the new cast that joins Josh Hutcherson, the sequel just might be as successful as the first. From the trailer, we can see much of the same scenery as in the first film. We have giant bees, lizards, spiders, perhaps some dinosaurs and foliage that would suggest that it is filmed in a tropical location or the set director was just incredible at his job and provided a very realistic feel to the site when needed.
Overall, the film looks like it would be great for a family night out at the movies. It has just enough action to keep the young ones entertained, while an adult-centered humor is delivered from the cast, and I would like to highlight Dwayne Johnson's "Peck Pop of Love" to catch a girl's attention. Seriously though, ladies, would that work on you? Check out the TV spot below.
And here are some clips from the film, which will be released in the U.S. on Feb. 10.
"Same Island"
In this clip, Sean and Hank find a way to crack the code that Sean has received from the perosn he believes to be his grandfather.
"Daughter"
We meet Gabato and his lovely daughter, Kailani, the lucky tour guide duo to fly Sean and Hank to the coordinates that they had discovered.
"Mysterious Island"
This is our first glimpse of what the mysterious island will look like.
"That's Imasculating"
here is what not to do when you encounter a giant lizard.
"Thousand Watt Smile"
Seafood is great, only when it's dead and not trying to eat you for lunch.
"Radio"
For all of us who are connected every second of our lives, would we be able to survive on schedules such as these?
. . .
Follow Cherry Bell Damasco-Farrington on Twitter at https://twitter.com/cbdamasco.
And don't forget to "Like" It's Just Movies on Facebook at
http://www.facebook.com/itsjustmovies.