— by CHERRY BELL DAMASCO-FARRINGTON —
Who ever said growing up was easy and fun?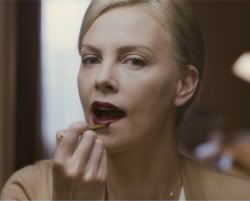 Meet Mavis Gary. She was the embodiment of the American teenager. She was beautiful and excelled at everything she did. She was self absorbed and judgmental. All the girls hated her, but wanted to BE her. Mavis returns to her small town of Mercury to relive her glory days, but things aren't as she expected. She attempts to rekindle with an old flame, Buddy, but things don't seem to go her way. Through it all, she befriends Matt and finds an unlikely confidant who tells her exactly as he sees it.
Charlize Theron is Mavis, and just by looking at Theron's long list of achievements, it is very unlikely that this film will disappoint viewers. Theron has this knack of capturing a character to the fullest and you either fall in love with the character, hate it completely, or are left wondering where in the world the inspiration rose from to bring forth such a character.
Paired with a director such as Jason Reitman and Diablo Cody, the writer of "Juno," I suspect that this film will do well. It would be interesting to find out whether Mavis will find failure enlightening and make a change in her for the better or break her.
"Young Adult" is in theaters now.
. . .
Follow Cherry Bell Damasco-Farrington on Twitter at https://twitter.com/cbdamasco.
And don't forget to "Like" It's Just Movies on Facebook at
http://www.facebook.com/itsjustmovies.