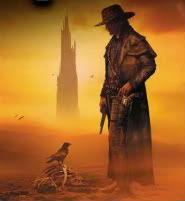 A few weeks ago, it was reported that Universal Pictures was placing "The Dark Tower" project on hold due to financial concerns. Tuesday, Academy Award wining director Ron Howard confirmed the rumor in a brief interview with Entertainment Weekly. To recap, "The Dark Tower" — written by the talented Stephen King — is an Arthurian series about a man named Roland on a perilous quest to find the legendary dark tower. At present, there are seven books total. However, an eighth novel, titled "The Dark Tower: The Wind and the Keyhole," will hit bookshelves next year.
In his own words, Howard said the following about the delay.
We had to pull back to our September start date due to budget delays and ongoing story development and logistical issues, but "Dark Tower" is moving forward. We're thinking of starting in early spring now.
This sounds promising. Once the first movie is shot, a six hours of TV content will follow. If you ask me, that sounds out of order. In my opinion, it makes more sense to build a target audience with a mini series first, then end with a film. Maybe then the suits at Universal won't be so anxious about the costly production budget.
When asked about casting, Howard went on to say Javier Bardem wasn't confirmed in the starring role of Roland Deschain.
I can't really say who'll be in it yet, but Javier Bardem has shown a great deal of interest. We'll know by the end of the summer, when our flashing green light goes solid.
There's that glimmer of hope. I'm crossing my fingers Viggo Mortensen is chosen to portray the gunslinger of Gilead instead.
. . .
Follow Sherice Antoinette on Twitter at http://twitter.com/ShericesPieces.
And don't forget to "Like" It's Just Movies on Facebook at
http://www.facebook.com/itsjustmovies.