The Wolf Pack has nothing on The Fuzzy Pack.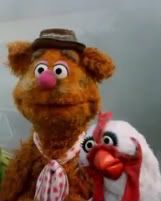 Capitalizing on the release of "The Hangover Part II," Disney has released a new trailer for "The Muppets" and it's very clever. Similar to a few "Hangover" spots seen in the past, this one-minute teaser's got slow-mo, a hip hop track and random quotes from made-up movie critics.
The best, however, is watching disoriented Muppets stagger about as if they tied one on the night before. Oh and, of course, Danny Trejo. I've watched this clip three times now and can't stop laughing. Hopefully, the film will be just as amusing as what we've seen so far.
So, what did you think of the trailer? Pretty hilarious, right?
"The Muppets" opens in theaters Nov. 23. Wokka, wokka, wokka!
. . .
Follow Sherice Antoinette on Twitter at http://twitter.com/ShericesPieces.
And don't forget to "Like" It's Just Movies on Facebook at
http://www.facebook.com/itsjustmovies.