— by CHERRY BELL DAMASCO-FARRINGTON —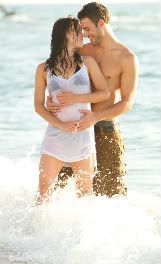 The fourth installment of the "Step Up" franchise has finally come to fruition. This is a franchise that started with Channing Tatum and his now wife, Jenna Dewan, and has evolved to a hugely successful series of dance films that has taken viewers from the private school dance studios to the streets of Maryland, from the streets to New York University and the underground dance battle scene onto the streets of Miami of themselves. Each time, the films weave through the lives of trained dancers with the untrained, but are equally passionate about the art.
The plot:
This time around, Emily (Kathryn McCormick), the daughter of a wealthy businessman, arrives in Miami with aspirations of becoming a professional dancer, but soon falls in love with Sean (Ryan Guzman), a young man who leads a dance crew in elaborate, cutting-edge flash mobs. The crew, called the MOB, strives to win a contest for a major sponsorship opportunity, but soon Emily's father threatens to develop the MOB's historic neighborhood and displace thousands of people. Emily must band together with Sean and the MOB to turn their performance mobs into protest mobs, and risk losing their dreams to fight for a greater cause.
This marks the first lead roles for both of the lead characters, but if you watch summer television, you will be familiar with Kathryn McCormick from season six of the hit dance show on Fox, "So You Think You Can Dance," on which she placed third and has returned to the show on occasion as an "All Star Dancer" to perform with current competitors. On that note, you will also recognize some of her former fellow competitors in the film, such as Stephen "Twitch" Boss and Phillip Chbeeb, as well as a few members of the online hit dance film series "LXD: The League of the Extraordinary Dancers."
A few of the previous films' cast members will be returning, too, so if you were a fan of "Moose," played by Adam Sevani, you won't be disappointed. Once again, the writers and choreographers (Wade Robson) of the film intend to wow and blow the viewers' minds with some intense dance sequences in the streets of Miami. You will find hydraulic cars, guys jumping off vehicles and doing flips to the typical family gathering to show the viewers the lives of these dancers and pull at those heart strings.
The film is executive produced by Jon M. Chu, who also has his other project, "G.I. Joe: Retaliation," hitting theaters this summer, and was directed by Scott Speer and written by Adam Shankman, Jennifer Gibgot, Erik Feig and Patrick Wachsberger. The film is set for release on July 27. Will it be on your must- see list this summer?
Check the trailer out below and let us know what you think in the comments section.
. . .
Follow Cherry Bell Damasco-Farrington on Twitter at https://twitter.com/cbdamasco.
And don't forget to "Like" It's Just Movies on Facebook at
http://www.facebook.com/itsjustmovies.