— by CHERRY BELL DAMASCO-FARRINGTON —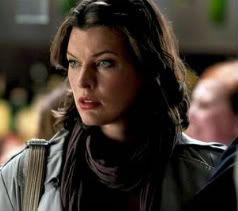 Milla Jovovich is best known for her kick-butt character Alice in the "Resident Evil" franchise or as Leeloo in "The Fifth Element" with Bruce Willis. She has had many roles between her debut film "Two Moon Junction" to the upcoming "Resident Evil: Retribution" (which is still in the pre-production stage), but the majority have been independent films).
Jovovich plays Anna Merchant, a school teacher who witnesses and survives a serial killer's attack. She sustains a head injury but now has to live with a condition called "face-blindness." The condition causes facial features to change each time she loses sight of them, including those of her loved ones. Meanwhile, the killer is closing in.
On her Twitter account this week, Jovovich said the following about "Faces in the Crowd":
I truly hope that it comes out in enough theaters for everyone to get a chance to see it! Unlike most of my indie films, which never see the light of day!
This horror- thriller film is the directorial debut of Julien Magnat and also stars Julian McMahon ("Nip/Tuck") as Detective Kerrest, Sarah Wayne Callies ("The Walking Dead") and Michael Shanks ("Smallville").
Here is the film's synopsis: A serial killer has been terrorizing the city. An innocent bystander (Jovovich) witnesses his latest attack, but while fleeing, she falls from a bridge and is knocked unconscious. When she awakes in the hospital, she can't recognize family, her boyfriend or even her own face in the mirror. She is diagnosed with prosopagnosia, or "face blindness." This is a real neurological disorder, like dyslexia but with faces, caused by a lesion of the temporal lobe, the part of the brain that allows us in a heartbeat to compare someone's face with all the faces stored in our memory. She is incapable of recognizing the same face twice. Every time she looks at someone, it's like she's never met them before. Being the only witness, she is hunted by the killer, leaving her paranoid in a sea of unfamiliar faces. Where can she turn? Who can she trust? Who is she waking up next to? Who is standing next to her? This suspense thriller takes us on a terrifying ride through the blurry eyes of a woman searching for a monster amongst the faces in the crowd.
There is no official release date for the film as of yet, but keep an eye out for it in your local theater.
. . .
Follow Cherry Bell Damasco-Farrington on Twitter at https://twitter.com/cbdamasco.
And don't forget to "Like" It's Just Movies on Facebook at
http://www.facebook.com/itsjustmovies.