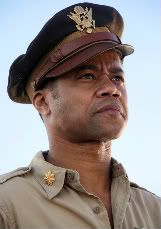 — by CHERRY BELL DAMASCO-FARRINGTON —
The world is in turmoil — on land, on sea and in the air. Soldiers are fighting for their lives and for their families back home. And some are fighting for their rights, not only as individuals but as soldiers who have signed up to prove that they are as capable as any soldier in the front lines.
"Red Tails" is produced by LucasFilms Ltd. It was directed by Anthony Hemingway and written by John Ridley and none other than the man himself, George Lucas.
The official synopsis for the film — which is due out Jan. 20, 2012 — says the following:
1944. World War II rages and the fate of the free world hangs in the balance. Meanwhile the black pilots of the experimental Tuskegee training program are courageously waging two wars at once — one against enemies overseas, and the other against discrimination within the military and back home. Racial prejudices have long held ace airman Martin "Easy" Julian (Nate Parker) and his black pilots back at base — leaving them with little to do but further hone their flying skills — while their white counterparts are shipped out to combat after a mere three months of training. Mistakenly deemed inferior and assigned only second-rate planes and missions, the pilots of Tuskegee have mastered the skies with ease but have not been granted the opportunity to truly spread their wings. Until now.
As the war in Europe continues to take its dire toll on Allied forces, Pentagon brass has no recourse but to reconsider these under-utilized pilots for combat duty. Just as the young Tuskegee men are on the brink of being shut down and shipped back home, Col. A.J. Bullard (Terrence Howard) awards them the ultimate chance to prove their mettle high above. Undaunted by the prospect of providing safe escort to bombers in broad daylight — a mission so dangerous that the RAF (Royal Air Force) has refused it and the white fighter groups have sustained substantial losses — Easy's pilots at last join the fiery aerial fray. Against all the odds, with something to prove and everything to lose, these intrepid young airmen take to the skies in a heroic endeavor to combat the enemy — and the discrimination that has kept them down for so long.
The trailer is dramatic and hits various chords (as well as tear ducts) for someone like me who has a keen interest in World War II dramas. The film is based on true events and concentrates on the determination of the Tuskegee Airmen to join in the fight and prove to all that they are as worthy as any soldier to fight for their freedom.
Terrence Howard, whom I last saw in "Fighting" and "Iron Man," plays Col. A.J. Bullard who convinces Maj. William Mortamus to allow the Tuskegee Airmen to fly and protect bombers en route to their targets when other fighter pilots have refused to take on such a mission. Academy Award-winning Cuba Gooding, Jr. — who seems to have been in a lot more misses than hits since "Jerry McGuire" — takes on another World War II drama. He was Petty Officer Doris Miller in 2001's "Pearl Harbor" as a cook who occasionally fought boxing matches on the ship's deck for some cash. Maybe with this role, Gooding, Jr. will be recognized for his acting chops once again. I believe he has received more Razzie nominations for Worst Actor than actual Oscar nominations lately.
Also, among the cast list we find R&B singer Ne-Yo and rapper-turned-actor Method Man. Perhaps Method Man will be our comic relief in this film. Hard to say though with so many other talented young actors the likes of Nate Parker ("The Great Debaters"), Tristan Wilds ("90210" and "The Wire"), Elijah Kelley ("Hairspray" and "Take the Lead"), and Marcus T. Paulk ("Take the Lead" and "Roll Bounce") in their midst.
"Nothing is difficult. Everything is a challenge. Through adversity. To the stars. From the last plane. To the last bullet. To the last minute. To the last man. We fight!" resonates throughout the trailer. These fighter pilots put everything on the line including their lives to protect the bombers they are assigned. They show courage when faced with adversity and that it does not have color. They show heart and determination.
The release date is still a few months away and the story is somewhat familiar with the 1995 HBO film "Tuskegee Airmen" starring Laurence Fishburne. My question for you is: Will you go see this film about these brave young men who fought overseas for rights they could not get at home?
. . .
Follow Cherry Bell Damasco-Farrington on Twitter at https://twitter.com/cbdamasco.
And don't forget to "Like" It's Just Movies on Facebook at
http://www.facebook.com/itsjustmovies.