When it was announced that there would be two Snow White films coming out next year, I was a bit skeptical to say the least. Having two live-action films relating to the same subject coming out months apart is a very risky bet for the studios making them.
I was at Comic-Con this year in San Diego and attended the panel for "Snow White and the Huntsman," where some of my fears were allayed by seeing the cast together, seeing their chemistry and hearing about the directors vision for a dark and adult look at this classic fairytale.
We have the first trailer and for what people thought would be a mash-up of "Twilight" and "Red Riding Hood," first-time director Rupert Sanders and the minds at Universal Pictures have surely put those theories to rest.
You can watch the trailer below:
So, what did you think? This trailer surprised me by how epic it makes the movie look. My first impression is that I am really impressed with the trailer as a whole. I know that some people groan when they hear Kristen Stewart's name attached to anything, and even though she got her fame from the "Twilight" franchise, I have seen her act in other films like "The Runaways" where I got to see her be much more than just Bella Swan. Judging from the trailer, this rendition of Snow White is not a Disney princess, but a brave warrior who chooses to battle the evil queen.
One of this year's breakout stars is Chris Hemsworth, who just brought "Thor" to the big screen. He is an interesting choice for the Huntsman, as most Americans don't know him from anything other than "Thor" and a small part in "Star Trek," but I really enjoyed him in those and I believe he has the potential to make it big like Sam Worthington did. Appearing in "Avatar" made Worthington a household name and I am thinking the same thing's happening for Hemsworth as well.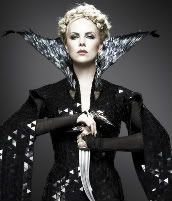 Lastly, of the three main characters, is Charlize Theron as the beautiful, but truly evil, queen who wishes to stay young forever … at any cost. I have yet to see her in any roles like this; the only villainous role I can remember from her was "Monster," but that was a whole different story. I can really see she is having fun with this part and should give an excellent performance.
The design and look of the film is a mixture of "Lord of the Rings" and "Robin Hood" with some of the cool effects of "Tron: Legacy," Some other cool design aspects are: the living mirror, the creature in the forest, and the look of the castle. All are truly inventive ideas that come as no surprise when the trailer says it is from the producers of "Alice in Wonderland."
One thing we don't get to see in this teaser trailer is the Prince, who will be played by Sam Claflin, but I am thinking this is going to be more of a girl power movie and Snow White won't need as much rescuing as in the original tale.
I absolutely cannot wait to see more from this film as it progresses and how much more fantasy, magic and creature will be introduced along the way.
What was your overall impression of the trailer? Anything you really liked or disliked? Leave a comment and let us know!
. . .
Follow Adam Poynter on Twitter at http://twitter.com/CCWGGuy.
And don't forget to "Like" It's Just Movies on Facebook at
http://www.facebook.com/itsjustmovies.