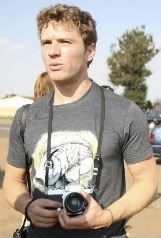 I'm a sucker for a good journalism movie — "State of Play," "Shattered Glass," "All the President's Men." In an age when the Internet allows for instantaneous information and fact-checking sometimes falls by the wayside, I love anything that emphasizes the importance of media ethics and seeking the truth.
"The Bang Bang Club," which premiered at the Toronto International Film Festival, looks like it does just that. The film tells the true story of four photojournalists — Greg Marinovich (Ryan Phillippe), Kevin Carter (Taylor Kitsch), Ken Oosterbroek (Frank Rautenbach) and João Silva (Neels Van Jaarsveld) — who captured the brutality that racked South Africa just before the downfall of Apartheid in the early 1990s.
Based on the trailer, this movie isn't going to be anything earth-shattering, certainly not comparable to journalism movie classics like "All the President's Men" or "Network." But I knew little about the Bang Bang Club before reading about this movie, and the reporter in me was immediately intrigued as soon as I read the synopsis.
I'm interested to learn more about these photographers that risked so much to capture the truth through their camera lenses. At the very least I'll probably add this to my Netflix queue.
"The Bang Bang Club" opens April 22. Check out the trailer below.
. . .
Follow Alexa Milan on Twitter at http://twitter.com/alexamilan.
And don't forget to "Like" It's Just Movies on Facebook at
http://www.facebook.com/itsjustmovies.