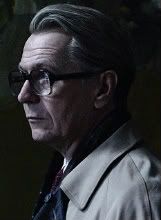 Gary Oldman is an incredible actor. In the 30-plus films he's starred in, Oldman has given magnificent performances, yet he's never been nominated for an Academy Award. Hopefully, that will change this Oscar season with his portrayal of espionage veteran, George Smiley in the film "Tinker, Tailor, Soldier, Spy."
Based on the best-selling novel written by John Le Carré in 1974, "Tinker, Tailor, Soldier, Spy" is about an intelligence expert forced from semi-retirement to hunt down a Soviet mole.
The film is directed by Tomas Alfredson ("Let the Right One In"), and stars a bevy of talent. Colin Firth, Tom Hardy, Mark Strong, Benedict Cumberbatch, Ciaran Hinds and John Hurt all lend their expertise to tell this intriguing story.
To catch a glimpse of one of the most anticipated films this fall, watch the trailer below. I think it manages to mesmerize by setting the perfect perplexing tone. As always Oldman continues to captivate.
"Tinker, Tailor, Soldier, Spy" opens Nov. 18.

By the way, in case you were wondering, the haunting soundtrack is from the 2010 version of "The Wolfman," scored by Danny Elfman.
. . .
Follow Sherice Antoinette on Twitter at http://twitter.com/ShericesPieces.
And don't forget to "Like" It's Just Movies on Facebook at
http://www.facebook.com/itsjustmovies.