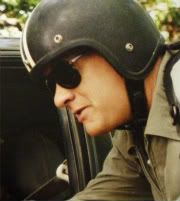 Very seldom do we get to see classic Hollywood celebrities of this caliber collaborating in a movie, especially more than once. Julia Roberts and Tom Hanks both starred in 2007's "Charlie Wilson's War" and are now back together in "Larry Crowne," a dramatic comedy co-written by Nia Vardalos ("My Big Fat Greek Wedding") and Tom Hanks. Tom Hanks is also taking on another role in the film as its director and starring in the title role. This is a lot for anyone, but I'm sure this accomplished star can handle it.
Larry Crowne (Tom Hanks) is a 40-something recently-divorced Navy veteran who loves his job and is good at it. He goes as far as he can up the ladder without a formal college education — but then is laid off. After a conversation with his neighbors Lamar and B'Ella (Cedric the Entertainer and Taraji P. Henson), he decides to reinvent himself by going back to college and getting a degree.
On his first day of college, he befriends a unique soul in the form of Talia (Gugu Mbatha-Raw), her crazy boyfriend Dell Gordo (Wilmer Valderrama), and their gang of scooter enthusiast friends. He forms unexpected bonds with them and a class of outcast students who might have a thing or two to teach him. His speech teacher, Mercedes Tainot (Julia Roberts), has lost her drive and faith in the world after her dreams don't come to fruition, and her lopsided marriage to a stay-at-home writer (Bryan Cranston) has her mentally checking out of her life. Then Larry comes into her class: happy and buoyant, he begins to shed the cares of his old life and inspire those around him, including his speech class and his teacher. Can Larry Crowne rebuild his life into a better one, less cluttered with the cares and worries of his past history in order to make himself into the man he should be?
Going into "Larry Crowne," I knew what it was — not the typical summer action film, but a dramatic comedy. And that is what you get, a light-hearted and not too emotionally-heavy film. Yes, it does have some sad moments, but just like Tom Hanks' character Larry Crowne, the movie doesn't choose to dwell on the negative, but moves forward and make the best of things. Focusing on the characters and the impact they have on each other, you see an evolution of our main characters from the rut in which most of them are stuck.
Talia — played flawlessly by Gugu Mbatha-Raw — is Larry's pivotal changing point, just as Larry is to Mercedes. Talia is a free spirit who takes an instant liking to Larry and genuinely wants to help him out. Their relationship seemed a bit odd at first, but after awhile they just looked like friends and you forget the age difference. Wilmer Valderrama was hysterical as Dell Gordo, Talia's boyfriend who gets jealous and makes oddly funny comments every time Larry and Talia were caught together. And there are some great performances from secondary characters, like the speech class and Larry's economic teacher, Dr. Matsutani (George Takei). A lot of these characters that seen as much in the film provided some awesome jokes and George Takei can be funny saying just anything with that very deep and distinctive voice of his.
I can't forget to talk about Julia and Tom's chemistry together onscreen. It seemed obvious that the two of them are longtime friends off-screen, so the connection in the movie came naturally. At first, you see his attraction to her when she barely notices him, but he slowly wins her over and gets inside her head and begins to change how she views her life and the world around her. When they finally start to show their feelings for each other, that is when both of their lives become enriched with the joy of each other's company and companionship.
Also starring in smaller roles we have Rob Riggle, Rita Wilson, Pam Grier, Malcolm Barrett, Maria Canals-Barrera, and last, but not least, Rami Malek who was one of the funniest people in the film with his portrayal of an eternally-stoned student.
Although this movie is more drama than comedy, it doesn't negate all the laughs that are to be had when watching it. The humor of the film is very off-beat and almost feels like the type of humor you find in independent films, never crude or vulgar it felt real and not forced at all. I was surprised at how much I laughed and it made this film far more enjoyable than I was expecting.
I went into this movie not really expecting much and it far exceeded that and really won me over. Though the pace and humor of this movie isn't everyone's cup of tea, I'm sure those who are fans of Tom and Julia — or just of movies with humor and romance — will enjoy it and leave the theater with the same happy feeling I had.
"Larry Crowne" — rated PG-13 for brief strong language and some sexual content — enrolls in your local theaters today.
. . .
Follow Adam Poynter on Twitter at http://twitter.com/CCWGGuy.
And don't forget to "Like" It's Just Movies on Facebook at
http://www.facebook.com/itsjustmovies.