Two of Marvel's greatest superheroes are hitting theaters this year, but just a couple of days before their releases, you will be able to get the video games based on these heroes.
Let's start with the first game, "Thor: God of Thunder," which will be available for consoles starting May 3 (the "Thor" movie will hammer its way into theaters May 6).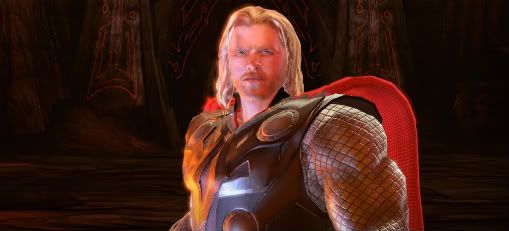 I can't wait to get more into Thor's world when this game comes out. It features villains that will not be in the upcoming movie, but that's a good thing — it will be new and interesting for those who aren't that familiar with Thor.
And one fact that gets a thumbs up from me is that video game Thor will be voiced by none other than Thor himself, Chris Hemsworth.
Personally, I can't wait to throw that epic hammer at enemies and exploring more of Thor's universe.
Here is the game's official description from Sega:
Experience a spectacular, epic-scale original adventure in Thor's first standalone game as he battles through numerous worlds of Norse mythology to overcome monstrous foes lifted from the pages of the comics. Wield Mjölnir, Thor's legendary hammer, to fight enemies on an immense scale while controlling the elemental storm powers of lightning, thunder and wind to vanquish foes. Battle against legendary enemies including Ulik, Ymir and Surtur in conflicts that span realms ranging from primal worlds of fire and ice to extraordinary planets inhabited by Frost Giants, Trolls, and other monstrous denizens.

• Enchanted Uru Hammer: Feel the surging power of a Norse superhero as you devastate multiple enemies with melee combo attacks and hammer throws, utilizing Thor's elemental storm powers of thunder, lightning, and wind.

• Epic Enemies: Take on an array of titanic enemies dozens of feet tall weighing over 20 tons using multiple strategies including grappling, vaulting and elemental attacks.

• Level Up: Acquire new abilities, powers, and weapon upgrades as Thor earns Valor points through his exploits.

• Immortal Heritage: Step into the role of the son of Odin, Asgard's divine ruler, wielding the mighty hammer Mjolnir that gives you control of elemental powers.

• Original Storyline: Delve deeper into the heroic tales of the Thor universe with an original story created specifically for the video games.
. . .
"Captain America: Super Soldier" will be available for consoles on July 19, followed by "Captain America: The First Avengers" hitting theaters on July 22.
Of the two games, "Captain America: Super Soldier" is the one that I'm looking forward most to playing. Don't get me wrong, I think Thor is awesome, but Captain America is No. 1 on my Marvel list. Both of these games come from SEGA so I can't really say that the graphics or design of this game is better than Thor's, but personally I'm probably going to enjoy this game more.
Fighting HYDRA Soldiers and kicking butt in World War II as Cap — all I can say about that is epic. Like "God of Thunder," "Super Soldier" will have the Cap himself, Chris Evans, as the voice of Captain America. Now, both of my thumbs are up.
Here is the game's official description from Sega:
Wield the Shield of the World's First Super-Soldier
Become Captain America™, the ultimate Super-Soldier, as you face the Red Skull's army in this gripping original third-person action adventure set in the darkest days of World War II. Wield Captain America's legendary shield to take out enemies at a distance, interact with your environment, and deflect incoming fire back at foes as you traverse Hydra's massive castle to save the world from Cap's villainous archenemies.

Get ready to hurl yourself shield-first into the fray—create your own superhuman feats with the superior force of the world's first Super-Soldier at your fingertips.

Features
Play as Captain America: Battle enemies bent on world domination in a unique World War II setting, using your Super-Soldier abilities to infiltrate a castle overrun by the forces of Hydra and destroy the forces of evil.

Wield Cap's Legendary Shield: Your shield delivers a variety of punishing missile attacks, as well as tough defense. Take out groups of enemies, block attacks, destroy objects, interact with surroundings, and reflect fire back at foes.

Devastating Open Combat: Move freely through the castle battlefield with acrobatic precision as you take down multiple enemies with punches, kicks, shield throws, and powerful combos. Take control of a turret or grab a soldier from behind and use his weapons against him.

Platforming with Purpose: Use Cap's impressive athletic abilities to overcome environmental challenges by scaling walls, climbing, and performing spectacular leaps and vaults. Master timing-based controls to execute advanced moves and discover multiple mission paths.

Stirring Original Storyline: Play a compelling original story by renowned Marvel scribe Christos Gage set in the movie universe but created specifically to bring extra depth to gameplay. Interactive and scripted cinematic moments immerse you in film-like action sequences.

Legendary Comic Book Super Hero: Created by the famed team of Joe Simon and Jack Kirby, Captain America has starred in over 200 million comic books that have been sold in 75 countries, and the Sentinel of Liberty is a key member of the Avengers alongside comic book icons The Hulk™, Iron Man™, and Thor™. Captain America: Super Soldier represents Cap's first standalone console game adventure.
There is just one thing that I'm disappointed with both the games. They are going to be available for DS, PS3, Wii, Xbox 360 and also for 3DS (but for that console, it will be available after both movies are out on Blu-ray/DVD this fall), but not for those of us that plays on PC. That is really disappointing, but who knows, maybe it will come for PC as well.
In meantime, discuss and leave your comments at the right. Excited for these games? Which one impressed you the most?
. . .
Follow Andy Behbakht on Twitter at http://twitter.com/Haoh93.
And don't forget to "Like" It's Just Movies on Facebook at
http://www.facebook.com/itsjustmovies.