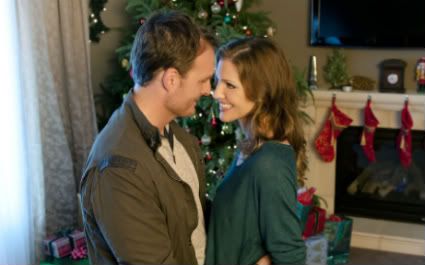 Mrs. Claus' mission to find Christmas spirit for her stressed-out husband also ignites a family, torn apart by divorce, to rediscover the power of love just in time for Christmas in "Mistletoe Over Manhattan," a Hallmark Channel original movie world premiere Nov. 6 (8p.m. ET/PT, 7C).
Tricia Helfer ("Battlestar Galactica," "Burn Notice"), Greg Bryk ("Happy Town," "History of Violence"), Tedde Moore ("The Kennedys") and Mairtin O'Carrigan ("The Boondock Saints II: All Saints Day") star in the holiday story.
Rebecca, Mrs. Claus, (Moore) is worried that her exhausted, workaholic husband (O'Carrigan) has lost his holiday spirit. She believes she can help him recapture his bliss and secretly heads to the one place she knows the spirit of Christmas must still exist, the place she fell in love with Nick — New York City. In a crowded diner, Rebecca befriends Joe (Bryk), a caring cop who is worried about this kindly grandmother, who's alone and low on funds. Joe reveals he and his wife Lucy (Helfer) are in the middle of a divorce. Sensing that Joe is still very much in love with his wife, Rebecca agrees to work temporarily as the family's nanny until Christmas. To Rebecca's delight, by healing Joe and Lucy's family, she shows Santa that Christmas miracles are still possible and his job's more important than ever.
"Mistletoe Over Manhattan" is a Chesler/Perlmutter Production. Lewis Chesler, David Perlmutter and Rob Vaughn are executive producers. Marek Posival is producer. John Bradshaw directed from a script by Hilary Hinkle and Linda Engelsiepen.
"Like" It's Just Movies on Facebook at http://www.facebook.com/itsjustmovies.