— by CHERRY BELL DAMASCO-FARRINGTON —
In Sarah Polley's romantic drama "Take This Waltz," starring Michelle Williams, Seth Rogen, Luke Kirby and Sarah Silverman, we witness Louis (Rogen) and Margot's (Williams) marriage take an unexpected turn when Margot meets her new neighbor Daniel (Kirby).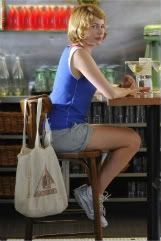 Two new clips from the film debuted at the Toronto International Film Festival this month.
In the first clip, Margot steps out her front door and announces that she will be going for a swim. She hesitantly looks towards Daniel's home and begins to walk. Shortly afterwards, Daniel steps out and the next thing we know, he is following Margot to her destination. This scene is almost like something out of a stalker thriller movie minus the scary movie. Margot never acknowledges the fact that she knows that Daniel is following her and Daniel never seems to attempt to let his presence be obviously known. So in the end, it's just an awkward scene that we really don't know what will happen next. For all we know, the film may indeed be a thriller and weren't aware of the fact.
In the second clip, Margot and Geraldine (Silverman) are sitting on the porch and Geraldine tells Margot about being sober and what doesn't help her in her struggle to be sober. As Geraldine states, after reading in books about "falling off the wagon," she fishes for some compliments from Margot about how she looks.
A release date has yet to be set, but in the meantime, take a look at the teaser trailer here: http://itsjustmovies.com/17494.
. . .
Follow Cherry Bell Damasco-Farrington on Twitter at https://twitter.com/cbdamasco.
And don't forget to "Like" It's Just Movies on Facebook at
http://www.facebook.com/itsjustmovies.