Everybody loves an underdog and in director Gavin O'Connor's latest film, "Warrior," we have two — and they are estranged brothers.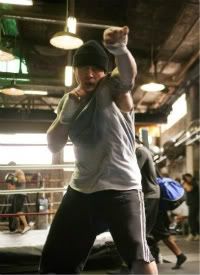 Brendan Conlon (Joel Edgerton) is a high school physics teacher who has a bank about to foreclose on his house and a daughter with an expensive heart defect. He is also a retired mixed-martial-arts champion fighter who is driven to return to the ring and risk his life for extra money. The other is Tommy Conlon (Tom Hardy), an Iraq-war veteran who is also an MMA fighter. When he returns to the United States he finds his father Paddy (Nick Nolte). Tommy hasn't seen his dad in 13 years, but he wants Paddy to train him to fight in an upcoming competition called Sparta, an all-out MMA battle to find the best contender in the world.
The training progresses as does the drama as Brendan starts training with an old-friend. It starts as a favor but ends in competition when the lead fighter has an injury that sidelines him. Tommy, on the other hand, is much harder to read. In the beginning, he is pure rage, unleashing all of his anger on his father for all of the years of drunken abuse he heaped upon him, and even though Paddy is sober now and has turned to religion for strength, there is no forgiveness in Tommy's heart. But just when you think that he is impossible to root for, we begin to see glimmers of facts that may have changed him into the angry abrasive man he is today.
Sparta is a winner-takes-all challenge and we are told over and over again that anybody can win it, given the right circumstances. The most ferocious fighter in the world is Koba (Kurt Angle), who has never been defeated and has seriously injured many of his opponents. The two brothers must overcome many personal, physical and emotional hurdles if they hope to succeed and claim the grand prize.
O'Connor ("Pride and Glory" and "The Miracle") has taken a movie that might seem pretty straight forward — and completely obliterated the status quo. I have never watched a single MMA fight, yet I loved the film. As the director said in an interview, "The movie is not about MMA fighting — that is just the backdrop of the film." I agree. There is so much richness and emotional rawness to this film. The fights are amazing and thrilling, but what drew me in and kept me attentive was the back-story of our main characters and their families. You really do root for Tommy and Brendan.
While "Warrior" uses many archetypes, it doesn't make things as black and white as other films do. The movie doesn't really present a protagonist to root for or have a clear path of redemption set up either. It is what it is and doesn't apologize for it; the brutal truth isn't always nice to see but in this case it works. They don't ask you to choose a side and while one brother is clearly more likeable than the other, you want both to succeed.
The acting was amazing and I saw a depth I have never witnessed in either Tom Hardy or Joel Edgerton in any of their previous roles. It is apparent by the amazing condition they put their bodies in that both of these amazing up-and-coming actors were committed. The hope and drive in Brendan's eyes as he fights is equally matched by the rage, anger and pain you see in Tommy's through every scene and fight.
While those two are center stage in the film, I must also mention Nick Nolte's performance and how moved I was with his character. I will admit I am not a huge fan of Nolte's and it is easy to say that his prime was before my time, but this role was my favorite of his. We only see him as a broken old man and recovered alcoholic, but we are told about the horrors he put his family through when he was drinking many years ago. He seems to be a gentle old man, but when given the chance to be in his son's life in any capacity, he shows drive and determination to help. There are more than a few heart-wrenching scenes in which he blew me away and I wouldn't be the slightest bit surprised if his name found its way onto next year's Oscar ballot. Some other stellar supporting performances are provided by Jennifer Morrison, Frank Grillo, Erik Apple, Jake McLaughlin and Vanessa Martinez.
The film, although slightly longer than it should have been, is exciting, moving and has you wanting to jump out of your seat and cheer during the fights — while simultaneously making you cringe when you see, hear and feel the massive blows our heroes take. The fights are well choreographed, shot and edited together in the same flurry of speed and energy used in the ring.
While this film is violent, it is not bloody or gory and I am glad they went for a PG-13 rating so more people can enjoy this film. I can keep talking on and on about this film, but I don't want to ruin some of the fun surprises and triumphs it presents to the viewer. "Warrior" is one of the most thrilling and emotionally moving films of the year. Don't just go watch it … experience it.
"Warrior" is rated PG-13 for sequences of intense mixed martial arts fighting, some language and thematic material and knocks its way into theaters Friday Sept. 9.
. . .
Follow Adam Poynter on Twitter at http://twitter.com/CCWGGuy.
And don't forget to "Like" It's Just Movies on Facebook at
http://www.facebook.com/itsjustmovies.