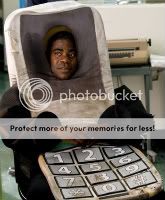 I love "Clerks." I love "Dogma." I even love "Zack and Miri Make a Porno." But, unfortunately, Kevin Smith's latest directorial venture is a bit of a disappointment, probably because it didn't come from the wonderfully off-kilter mind of Smith himself.
In "Cop Out," the first movie directed by Smith that he did not write, unconventional detectives Jimmy (Bruce Willis) and Paul (Tracy Morgan) are temporarily suspended from the New York Police Department for botching a drug ring investigation. Jimmy has been counting on every bit of money he can get to pay for his daughter's wedding, so following the suspension, he decides to sell a prize baseball card that is worth thousands of dollars.
But when a zany thief named Dave (Seann William Scott) steals the card and sells it to a baseball-loving drug lord, Jimmy and Paul attempt to track it down. They get more than they bargained for though, when their series of misadventures leads them back to the drug cartel the NYPD has been investigating.
"Cop Out" sounds side-splittingly funny on paper. Willis and Morgan, who have both proved hilarious in the past, seem like they would be a good team. Scott, Adam Brody and Rashida Jones seem like they would be fantastic support. Smith seems like he would be the perfect fit for a lampoon of buddy cop fare like "Lethal Weapon." But for whatever reason, "Cop Out" just doesn't work.
Willis and Morgan both do a fine job with what they're given, but with a few exceptions, they just don't elicit a lot of laughs together. Same with Scott, Brody and Jones. They all try, but the material just isn't that funny.
I can even see how it would read well. It just doesn't play well. I chuckled a few times, but for the most part it was just a little bland. The acting was fine, the directing was fine, the writing was even so-so, but it just doesn't gel.
One of the brighter spots in the film was a cameo from Smith mainstay Jason Lee, who is as delightfully smarmy in the few minutes of screen time he has as he is in Smith's other movies.
"Cop Out" could make for a decent rental on an otherwise dull night at home, but I would recommend saving the cost of a ticket. Now excuse me while I pop "Clerks" into my DVD player and revisit the Smith I know and love.
. . .
Follow Alexa Milan on Twitter at http://twitter.com/alexamilan.