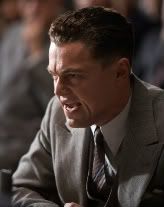 "J. Edgar" has the potential to make the most memorable and controversial biopic in many years. With his quick rise in the political world, litigious personal life, controversial tactics — which included blackmailing government officials — and the creation of the modern Federal Bureau of Investigations police and crime fighting technology still utilized today, there is so much for director Clint Eastwood to draw upon, right?
Was Leonardo DiCaprio the right choice to bring life to this opinionated political powerhouse to the big screen and was the choice to include unproven facts about his personal life the right decision? Well, read on and find out.
Growing up in a wealthy household, John Edgar Hoover (Leonardo DiCaprio) was prepared from an early age for a bright political future by his mother (Judi Dench), so it was no surprise when in his late 20s he became head of the General Intelligence Division and within a few years was promoted to Director of the Bureau of Investigation. His drive to eradicate crime and make America a safer place for all consumed him. Even his secretary, Helen Gandy (Naomi Watts), pointed out his lack of social life.
His keen observational eye and capricious nature led him to sometimes illegally collect information on possible radicals and people in power. He used that information to start a campaign against famous gangsters and also to amass significant power by keeping files of compromising information on politicians to blackmail them when need be. J. Edgar Hoover is also known for illegal wiretapping, spreading false rumors and even planting forged documents to get what he wanted.
One of the most interesting parts was his very close relationship with Clyde Tolson (Armie Hammer), associate director of the F.B.I. who was a lifelong friend of Hoover's — and also his alleged lover. We see them as a secretive couple, having lunch dates and vacationing together, and see how Hoover tried his best to keep up his appearance of being heterosexual by even considering asking a woman to marry him — much to the dismay of Tolson. This rumored relationship took place for nearly 50 years and ended with Hoover's death in 1972.
"J. Edgar" is a hard film to categorize and review because if you were around during his time in office or shortly after, I'm sure you probably know or have heard about the scandals in his life. But for someone like me, who wasn't even born yet when he died, much of the information is new to me. Yes, I know about the wire-tapping and his involvement in structuring the F.B.I. into the task force that it has become. But the less you know about all the details of his life going into the film, the better.
Clint Eastwood has directed a well-balanced story that takes a deep look at its main character and makes you care for him at times and really dislike him at others. There is an aged look to the film that helps to create the tone and period of the film. I'm a little torn because I was entertained and educated during the film, but it is over two hours long and feels like it dragged in parts. Finding out afterwards that many of the quirks and lifestyle choices of Hoover are just speculation led me to doubt the film, because even though I know movie biographies aren't always accurate, you want to trust the major details of the film.
I do believe that Leonardo DiCaprio was a proper choice for the title role as he has proven once and again that he can act. I didn't mind the major prosthetics and make-up he had to wear throughout the different eras. His interactions with Armie Hammer are interesting because at first I thought Tolson was hitting on Hoover when they first met, but then you come to find out that isn't exactly true. The film chooses to focus on this relationship a lot, as well as the slightly dysfunctional one J. Edgar Hoover had with his oppressive and domineering mother. Naomi Watts has a slightly thankless role as J. Edgar's secretary of many decades. She is shown being slightly aware of his inappropriate dealing in information gathering, but is more or less a filing clerk. I would have liked to see more of what she did for Hoover and how much information she knew about his social and political dealings.
The extended cast is so large and there are so many politicians, gangsters and people Hoover interacts with throughout the film that it was hard to make a distinction between them at times. In some good supporting roles we have Geoff Pierson, Gunner Wright, Brady Matthews, Ed Westwick, Jeffrey Donovan and Josh Lucas.
The bottom line to this film is that you know when you put great actors with a great director usually you can come-up with a compelling story. I found this movie to be intriguing and puzzling and at the same time I learned a lot about this man that I never knew. Is this movie for everybody? Probably not, especially if you are very knowledgeable about his life and career. In that case, you may want to wait to watch it on DVD. Nonetheless, it is a well-made film and I think Clint Eastwood and the whole cast did a good job with the material. A man who had the president waive the age limit to be in office just for him must be interesting enough to tell a story about, right?
"J. Edgar" is in theaters now and is rated R for brief strong language.
. . .
Follow Adam Poynter on Twitter at http://twitter.com/CCWGGuy.
And don't forget to "Like" It's Just Movies on Facebook at
http://www.facebook.com/itsjustmovies.