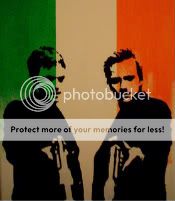 — by MARIUSZ ZUBROWSKI —
The original "Boondock Saints" was released in an extremely limited theatrical release in 1999. It was later re-released six years later, where it acquired a cult following.
The film ultimately received poor reviews, but writer-director Troy Duffy's sequel, "The Boondock Saints II: All Saint's Day," hopes to change all that, while still catering to the devoted fans of the series.
Sadly, the film does not improve on its predecessor and it still falls short due to its humorless script and unoriginal direction.
The plot follows Connor MacManus (Sean Patrick Flanery) and Murphy McManus (Norman Reedus), a pair of homicidal brothers who are framed for the murder of a priest and must return into action after hiding out with their father (Billy Connolly) in Ireland.
Boston, the scene of the crime, is divided among those who think that the brothers are behind this and those who don't, but luckily, FBI agent Eunice Bloom (Julie Benz) is on the side of the brothers.
The film is a mash-up of shoot-'em-up cliches and tries too hard to imitate Quentin Tarantino's direction, but fails horribly because unlike a Tarantino picture, "Boondock Saints II: All Saint's Day" does not combine intelligence with violence. It simply serves violence and hopes that a dose of humor will save it from the obvious inconsistencies in the script. Things like poor character development plague the script that already consists mostly of curse words. Sadly, Troy Duffy's is both humorless and immature.
Clifton Collins Jr. — who tries to follow-up to the modest success of his previous film, "Extract" — gives the worst performance of his career as a Mexican sidekick to the brothers. Its almost understandable as his character is one of the most unlikeable characters in the film, as he usually spouts things like "whupass fajitas" and "it's because I'm Mexican."
However, the whole cast is bland and even the protagonists are acted just for the sake of releasing a sequel.
If the film were in development for a bit longer, it might have succeeded in being stupid yet entertaining, just like the recent "Taken." However, as it stands, "Boondock Saints II: All Saint's Day" is a generally boring, unintelligent and unfunny action-film.
The movie runs for 117 movies and there are two or three entertaining scenes in it. However, it does set itself up for a sequel, and hopefully the third time is the charm.
Follow It's Just Movies on Twitter at http://twitter.com/ItsJustMovies.