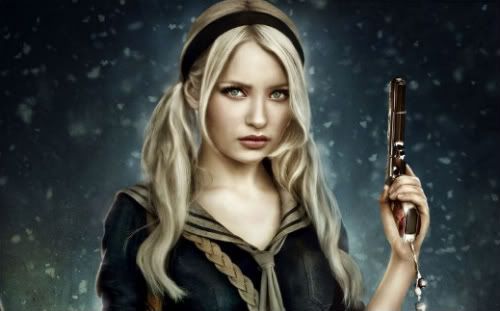 Zack Snyder's "Sucker Punch" opened in theaters and IMAX March 25 to an underwhelming $19 million dollars, giving it the No. 2 slot at the box office.
In a ploy to get you to go out and see the rest of the movie, Warner Bros. has released six minutes of the film online through MetaCafe.
Unfortunately, it falls flat.
The clip starts with a young girl [Emily Browning] sitting on her bed. She looks up to find a doctor in her doorway shaking his head solemnly and she knows that the worst has happened.
The movie begins with the death of the mother of Baby Doll [Browning's character in the film]. There is a montage of a funeral, a sadistic look given by her step-father and a scene that implies abuse of the worst kind. One thing leads to another and Baby Doll does something she will regret for the rest of her life, which lands her in a mental institution.
The six-minute clip looks more like a dramatic music video set to a new rendition of the classic "Sweet Dreams [Are Made of This]" as sang by the film's star, Emily Browning [the song wass originally sung by the Eurythmics].
"Sucker Punch" — which also stars Abbie Cornish, Jenna Malone, Vanessa Hudgens and Jon Hamm — is budgeted at an estimated $80 million.

(And check out our full review of the movie HERE.)
. . .
Follow Laudelys Miranda on Twitter at http://twitter.com/Lilah86.