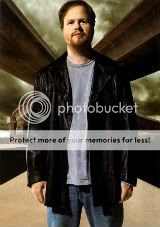 Deadline New York has confirmed what other sites previously had reported: "Buffy The Vampire Slayer" and "Dollhouse" helmer Joss Whedon is all but signed to direct the Marvel superhero team up "The Avengers."
After a lot of speculation and names thrown into the mix, it seems Marvel have finally got the man they feel is right to bring the biggest and most challenging superhero extravaganza to the silver screen.
Deadline wrote: I'm told Marvel Studios is in final negotiations for Buffy the Vampire Slayer series architect Joss Whedon to direct Marvel Studios' The Avengers. That's the fast-tracked film that would amount to an all-star team of Marvel superheros, including Iron Man (Robert Downey Jr.), Captain America (Chris Evans), Thor (Chris Hemsworth), as well as SHIELD leader Nick Fury (Samuel L. Jackson). Other signature superheros will likely be involved, but I've listed the actors in active superhero duty.
To a lot of geeks out there, including myself, this is a big day for a man we greatly admire and feel has never been dealt the cards he deserves. Yet, I also feel that this is quite a gamble by Marvel. Whedon is untested in the blockbuster arena. But then again so was J.J. Abrams when he took on "Mission: Impossible III and where is he now? "Star Trek…" or something?
So, what say you IJMers? Is Whedon the right choice? Or do you feel he is over-rated and over-hyped? Can we expect to see any Whedonite alumni in "The Avengers"? Nathan Fillion as Hawkeye? Felicia Day as Wasp? The comments box is yours…
. . .
Follow Ben Fowler on Twitter at http://twitter.com/Localboy99
.