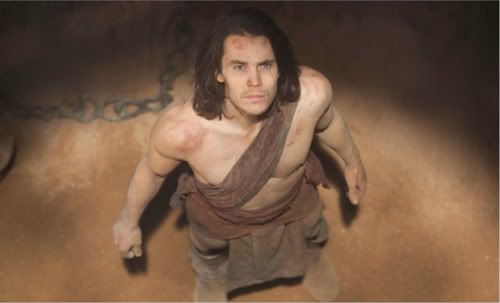 If there is an infamous movie to talk about from 2012 so far, it would have to be "John Carter." The reviews seemed extremely opposite ended. If you read some of the critics' reviews, you will find in some cases a curiously cruel animosity by some. Conversely, there is a marveled appreciation for it by others.
If you read the forums and Twitter comments accompanied by the hashtag #JohnCarter, you will discover a great deal of the comments are mostly praise. If you read the reviews from people who bought the movie at Amazon
, the majority enjoyed it thoroughly and don't understand why the hate by others.
Then, there is the supposed loss of hundreds of millions of dollars by Disney. I'm wondering when someone is going to stop repeating those old totals, and find updated numbers that actually reflect "John Carter's" financial run. Well, since no one else is doing it, here are some estimates I found online.
According to Box Office Mojo, the film's budget was $250 million (although other sites claim it cost even more to make). Also, some other sites insist Disney spent $100 million promoting the movie, which I highly doubt. But let's image this is true. At this point, the movie needed to make at least $350 million to break even.
Did "John Carter" break even?
According to Box Office Mojo, "John Carter" made $73,078,100 domestically, and $209,700,000 at foreign markets, for a total of $282,778,100 worldwide. That's not bad for a movie that isn't a franchise, had a relatively unknown actor for its leading man, and was poorly, very poorly promoted in my opinion.
So, $282 million subtracted from $350 million leaves us with a $68 million dollar deficit. But the profits don't end here. There are also home media sales (DVD, Blu-ray, digital downloads) to consider.
How much has "John Carter" made so far in those markets?
OK, the movie has been out on sale for three weeks, and it was the No. 1 video sold its first week, moving 526,928 units and making a fantastic $8,952,507 total. It made another $3,409,025 in its second week and $1,650,942 for its third week. That's a total of more than $14 million.
But that is not taking Blu-ray into account, which has already made well over $22,171,862 in three weeks. That is almost $40 million more to add to the total earnings.
And because I don't want to make this article endless, let's just say it made plenty more in digital downloads (iTunes, Amazon) as well as in movie rentals, which I hear is still going strong despite Disney's wishes to wait 28 days from it's DVD release before it is available for renting.
I would have to say that all those articles I read in March calling "John Carter" the biggest flop in history were shortsighted. According to the numbers, the movie has, at the very least, broken even, and it is by no means the biggest flop in history.
There seems to be an actual interest in the film and folks are now getting there hands on it, digitally or on video. Maybe it was word of mouth, or maybe it is just the regular cycle of the industry, but it has done very well in these markets.
So, why not take advantage of a legitimate fanbase that has brought a movie that had a weak start financially to an even break, and give us the sequel it deserves? The books are already written and waiting to be made into movies.
Read our review of "John Carter" HERE.
So, what do you think? There are already some fanbase groups working towards convincing Disney or another company to bring the sequel to life. Would you watch it?
. . .
Follow Josue Sanchez on Twitter at http://twitter.com/Josue_can.
And don't forget to "Like" It's Just Movies on Facebook at
http://www.facebook.com/itsjustmovies.