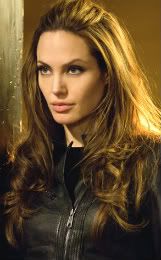 I remember "Wanted" was really well promoted, I remember "Wanted" had Angelina Jolie, and she looked bigger than life. I also remember the incredible over-the-top and action-packed last 20 minutes of the movie, but I don't remember much more than that. Oh yeah, wasn't Morgan Freeman in that movie too?
Either way, what I remember is irrelevant because it was a huge hit, and talks of a sequel since its release in 2008 have never ceased.
Recently, MTV News caught up with "Wanted" producer Jim Lemley and he shared it's still being considered:
We still talk sometimes about "Wanted 2" … We want to try and continue that story because it's a very interesting one for us.
But are the original stars still interested? Would Angelina Jolie be on board for a sequel, as well as James McAvoy?
Well, Jolie has already expressed her opinion on the matter when she publicly confirmed she would not reprise that role again. And McAvoy seemed unsure of the sequel's future.
So, in response to the stars' responses, Lemley also said in his MTV interview:
The reality is we love (Jolie) and we'd love to do it with her, but also that story has such a big idea behind it that it can also go on without her.
So, it's sound like a "Wanted" sequel is a strong possibility in the mind of some, but perhaps they will take the story in a different direction, without the aid of Angelina Jolie's character.
What do you think? Are you a fan of the movie, or the graphic novel? Could a sequel succeed without Jolie's character?
. . .
Follow Josue Sanchez on Twitter at http://twitter.com/Josue_can.
And don't forget to "Like" It's Just Movies on Facebook at
http://www.facebook.com/itsjustmovies.