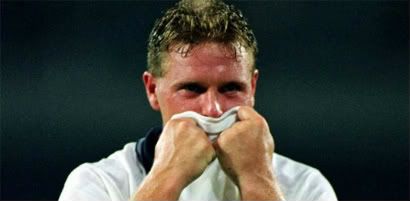 With the Women's World Cup proving to be a fantastic event, soccer is in full swing. So it seems like an especially fortuitous time for Revolver Entertainment to be releasing "One Night in Turin," which tells the behind-the-scenes story of England's adventures in the 1990 Men's World Cup.
Narrated by Gary Oldman, the documentary recounts the rousing story of a team that overcame remarkable odds during Italia '90.
Here is the official description:
Before the Premier League and multi-million pound salaries, in England "football" was a dirty word. The game was in disgrace, the fans, hooligans, the nation, it seemed, were all played out. Then there was Italia '90 — The World Cup — a shot at redemption. But this was no ordinary World Cup and no ordinary time. The manager, Sir Bobby Robson, was under intense media scrutiny, and his team described as "donkeys." Yet, over six short weeks, through their heroic exploits they united a nation, coming within a heart beat of reaching the World Cup Final. Featuring match action — from Platt's last-gasp winner against Belgium, to the silky skills of Gazza and the cool finishing of Lineker — and previously unseen behind-the-scenes footage, this is the definitive story of England's greatest adventure on foreign soil … so far. Soundtrack includes tracks from Happy Mondays, Stone Roses, Inspiral Carpets, Adamski, Joy Division, The Charlatans, New Order, James, The Farm and others.
Thanks to our friends at Revolver, we have three copies of the DVD to giveaway to three lucky readers (U.S. only for this contest).
To win a copy, write a comment to the right telling us who your all-time favorite soccer player was. The contest will end July 22 at 12:10 p.m. EST. Three winners will be selected at random. Good luck!
And for more on the movie, please visit www.onenightinturin.com.
. . .
Follow Sean Gerski on Twitter at http://twitter.com/DoubleDown44.
And don't forget to "Like" It's Just Movies on Facebook at
http://www.facebook.com/itsjustmovies.