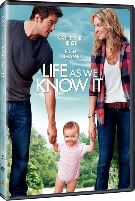 Want to win a copy of the DVD and the soundtrack of "Life as We Know It" (starring Josh Duhamel, Katherine Heigl, Josh Lucas and Christina Hendricks)? Well, entering our contest couldn't be easier: all you have to do is click the "like" button on Facebook.
Everyone who likes It's Just Movies on Facebook will be entered to win the prize. And for those who already like us on Facebook, the news is twice as good. If you you are a fan of It's Just Movies on Facebook when this story goes live, you get two entries into the contest! And that same rule will hold true every time we do a Facebook contest.
For a refresher on the movie itself, check out Adam Poynter's review HERE.
Good luck!
(A special thanks goes out to Mike Sametz and the whole DBA West team.)
. . .
Follow Sean Gerski on Twitter at http://twitter.com/DoubleDown44.