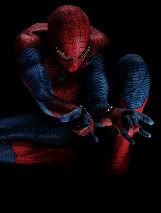 Even though "The Amazing Spider-Man" is still in production, work has already begun on a sequel.
THR has reported that screenwriter James Vanderbilt met with the studio about his idea for an Amazing sequel — which the studio has green-lit.
It's not a major surprise that they are working on a sequel before the first one even hit the screen, as this also happened last year with "Green Lantern," when Warner Bros. decided to hire "Lantern" writer Michael Goldenberg to write a screenplay for "Green Lantern 2."
Obviously, the factor that plays the biggest role here is how it does at the box office, so Columbia would seem to be very confident the movie will do well when it's released.
From all the set photos and news that I have seen, I think it looks great, but I would like to see a trailer to get a glimpse of how it will look before I can really get a handle on where it's headed.
The good thing is that if the movie is a success (which it will be, in my opinion) and a screenplay is already done and ready, then they could probably just begin production later that year. Plus, Emma Stone confirmed a while ago that she's signed up for more Spidey movies, and I'm sure Andrew Garfield is as well.
"The Amazing Spider-Man," starring Andrew Garfield, swings into theaters July 3, 2012. In the meantime, discuss and leave your comments to the right. Are you excited a sequel is already in the works?
. . .
Follow Andy Behbakht on Twitter at http://twitter.com/Haoh93.
And don't forget to "Like" It's Just Movies on Facebook at
http://www.facebook.com/itsjustmovies.