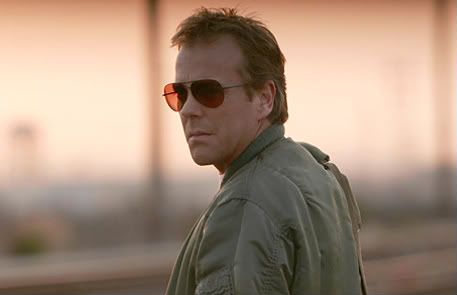 A "24" movie is going to happen, and fans couldn't be more excited.
For those who didn't watch the show, "24" was an eight-season-long hit television show that starred Kiefer Sutherland as Jack Bauer, an agent for CTU (Counter Terrorist Unit). One unique aspect of the show — and the reason it was called "24" — was the fact that the show was in-real-time. This means the events that occur the whole season all happen in one day — 24 hours, 24 episodes.
So far, we have had one "24" — which was called "24: Redemption." It was a real-time, two-hour-long, made-for-TV movie. In those two hours, they pushed the boundaries to the limits and created a masterpiece that might go under-appreciated by many, but deeply loved by others. No matter what the critics or anyone says, the more I watch "Redemption," the more I realize its worth and intricacy. It has become one of my favorite movies. But since "24" the show ended, we have been hearing about Jack Bauer jumping over to the big screen.
News about this project has been scarce, but we always heard something here and there. Last May, I listed what we knew about the project (you can read it here: http://itsjustmovies.com/10870). In this new edition, I wanted to update where we are with the "24" movie as of this minute.
With the big-screen "24" movie, they will deviate from the real-time aspect of the show, and simply bring the beloved character from the show Jack Bauer to life on the big screen. The events in the movie would represent a 24-hour day, but the writers will not feel the pressure — or burden — of the real time restriction. This will be Jack Bauer's turn to shine. And if you are a fan of the character, you already know his virtues and talents.
Also, like I have mentioned before, it has been said this movie will not be a sequel to the TV show, and to me, this means a clean slate. They can do anything, including bringing back any character and have old favorite presidents from the show continue to be president.
We now know the original script was written by Billy Ray ("State of Play"). That version ended up being rejected — though not in full. Kiefer and others have insisted various aspects of that script will be used for the movie.
We also know they have been on the lookout for a big-time director. Most recently, Tony Scott's ("Man on Fire" "Spy Game" "Enemy of the State") name has been attached to the project. Personally, I would love this. Scott is a well-respected and talented director, and his long list of movies reflects a similar style to the "24" feel and mood. It's like he has been preparing himself this whole time for "24."
Finally, while speaking on "The View" and then on "The Late Night With Jimmy Fallon" (see the clip at the end of this story), Kiefer explained the plan is to begin filming the "24" movie this coming January with a summer 2012 movie release date. This is great news for anxious fans of the show, and I really hope it happens.
The first wish I have for the movie is that they don't kill Jack Bauer. At times, the creators, writers and even the stars would carelessly joke about the ultimate fate for Jack, and they would tease that they intended for him to give his life saving the world. This is, in my opinion, is the wrong destiny for Jack Bauer. Many of the show's characters have died throughout its course, meaning "24" was not a show where you could really attach yourself to any of the characters (except for Jack and Chloe, played by Mary Lynn Rajskub) because at any given moment they could meet their end. It was actually very nerve-racking each week, because you didn't know who would be doomed in any particular episode.
Luckily for the show, they realized this was not the proper ending for Jack (though I think this only happened because of the prospect of the movie).
Secondly, I wish for Tony Almeida (Carlos Bernard) to return. In what turned out to be a huge shocker, Tony Almeida, a once thought-to-be-dead character, was brought back to the show in the pretense he was evil. He then won us all over again only to make him evil in the end. This is not the way to treat patriots. in my opinion. You give everything and lose it all for your country and what do you get in return? Death or dismemberment. I think this is a bad message and this movie is a great opportunity to repair the damage. Unlike many, I think these characters deserve happy conclusions to their stories … though I have a feeling they will make us keep riding the angst train. I love Tony Almeida and I would love to have his character back, fighting side-by-side with Jack to save the world.
Also, if the movie isn't a sequel, then they can bring back characters they erroneously killed off in the show, i.e. David Palmer (Dennis Haysbert). He played the president of the U.S. on the show, and what a magnificent part he played. His return would be a very welcome one.
In conclusion, as a huge fan of the show, I know the possibilities are endless. I want them to consider all these options and perhaps give us a new big screen franchise to love — something like a mix between "The Bourne Identity" and "Die Hard," perhaps with a sprinkle of "Man on Fire" on top of it.
What do you think about my ideas? What do you think about Kiefer's comments on the talk show? Want to hear it from the man himself? Watch the actual interview below. Then I would love some feedback.
. . .
Follow Josue Sanchez on Twitter at http://twitter.com/Josue_can.
And don't forget to "Like" It's Just Movies on Facebook at
http://www.facebook.com/itsjustmovies.