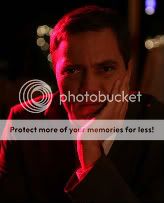 — by TOM ELCE —
In "The Missing Person," an alcoholic private detective by the name of John Rosow (played by Michael Shannon) tails the titular missing person, a man assumed to be one of the innocent victims to the 9/11 terrorist attacks in New York City. His prize for returning this would-be deceased man to his New York-based wife? A hefty reward, of course.
Directed by Noah Buschel, "The Missing Person" premiered earlier this year at Sundance and met a generally warm reception, going down well with audiences and scoring what stands as a 67 percent score on that popular critical review aggregator Rotten Tomatoes. Heading up a cast that also includes Amy Ryan and a parade of lesser-knowns, Michael Shannon's the kind of character you'd imagine would revel in the role IMDb describes and sure enough he's drawn accolades for the performance he gives in what may or may not prove writer-director Buschel's breakout (his previous efforts – "Neal Cassady" and "Bringing Rain" – were seen by few).
For those hoping for an inviting glimpse to the flick from a clip, you're bound to be left shrugging shoulders at this one, which basically replays the same limousine routine we've witnessed in many other films and television shows. Really, all that we can gather is that Shannon's trading in the kind of dry wit we'd expect of the part he plays while Amy Ryan's, well, Amy Ryan. It's evidently something of a minor moment in what we can hope is an excellent whole package.
If Buschel's prior credits are likely to provoke happy cinematic memories from precisely no one, star Shannon's got his previous body of work to keep us intrigued, great displays in films from "The Woodsman" to "Bug" to even the otherwise dreadful "Before the Devil Knows You're Dead" enough to make anyone willing to watch him dominate a film's screen time for once. One to look out for, it seems.
"The Missing Person" opened on limited release Nov. 20.

Source: Trailer Addict
Follow Tom Elce on Twitter at http://twitter.com/tom_elce.