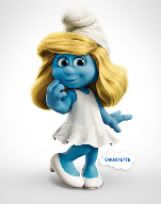 In this first featurette, we see Gutsy, Smurfette, Brainy, Grouchy, Clumsy and Papa Smurf get magically transported into our world. These wonderful characters are smurfed to life by Alan Cumming, Katy Perry, Fred Armisen, George Lopez, Anton Yelchin and Jonathan Winters in this live-action Smurf movie. As they hilarious and smurfly brave the real world, they meet new friends and out smart old enemies.
Hank Azaria as Gargamel transforms himself perfectly into the bumbling childhood villain we all remember. As Gargamel chases the Smurfs, their new friends the Winslows (Neil Patrick Harris and Jayma Mays) help them find the way back to their realm.
I must confess that when I first heard they were going to make a Smurf live-action movie, I thought, "Great, yet another great childhood memory ruined, how lame." But after watching the trailer and this featurette, I confess that I take it all back. I can't wait to lalala and smurf my way to the theater when it comes out this July.
. . .
Follow Jessica Morales on Twitter at https://twitter.com/athena606.