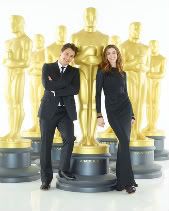 By now, we all know Anne Hathaway and James Franco will be hosting the Oscars Sunday. But who else is expected to be on the stage (other than the award winners)?
There will be musical performances by:
Gwyneth Paltrow, who will perform "Coming Home" from "Country Strong."
A.R. Rahman, who will perform "If I Rise" from "127 Hours" with Florence Welch of Florence + the Machine,
Zachary Levi and Mandy Moore, who will perform "I See the Light" from "Tangled."


And below is a list of those who you can expect to see on Oscar night as presenters:

Jeff Bridges
Sandra Bullock
Annette Bening
Halle Berry
Cate Blanchett
Russell Brand
Josh Brolin
Robert Downey Jr.
Tom Hanks
Jennifer Hudson
Hugh Jackman
Scarlett Johansson
Nicole Kidman
Jude Law
Alan Menken
Mandy Moore
Randy Newman
Hilary Swank
Justin Timberlake
Marisa Tomei
Oprah Winfrey
Reese Witherspoon
. . .
Follow Sean Gerski on Twitter at http://twitter.com/DoubleDown44.
And don't forget to "Like" It's Just Movies on Facebook at
http://www.facebook.com/itsjustmovies.