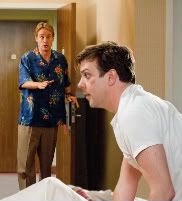 Many actors and comedians are known for their wacky and sometimes daring performances in comedies, but very few directors have created as many phrases and iconic roles and scenarios in the last decade of comedy as the Farrelly brothers. They made such films as "Dumb and Dumber," "There's Something About Mary," "Kingpin" and "The Heartbreak Kid." Many will never be able to look at franks and beans or a frost-covered pole the same way ever again.
The Dynamic Duo is back and teamed up with New Line Cinema in an attempt to fill the current comedic void in theaters with "Hall Pass." If you loved "The Hangover" and are looking for something to fill the time before the sequel hits theaters this May, "Hall Pass" may be able to help you out with that.
Married friends Maggie (Jenna Fischer) and Grace (Christina Applegate) are sick and tired of their husbands, Rick (Owen Wilson) and Fred (Jason Sudeikis), and their obsession with sex. The two are constantly ogling women in front of their wives. When their friend Dr. Lucy (Joy Behar) tells them about a practice of giving your husband a "hall pass" — a week off of the obligations of marriage to let them remember how single life really is and let them do whatever they want with no consequences — they are reluctant at first. But desperate for a change, the women decide to go through with it.
At first, Rick isn't so keen on the idea, but Fred is ecstatic and they soon make a game plan in which they will bed women for the next week. While the men have the week off of marriage, so do the women and they go to a lake for the week and decide to flirt and have a little fun, too. Do the guys still have what it takes to pick up women after their many years of being off the market? Will this help renew their passion in the marriage or backfire and make them drift further apart? A lot is on the line as a pair of married couple goes back to the single life in "Hall Pass."
I will say to start off that some of the best and funniest moments come from a reaction of total shock, so I won't get into detail on the jokes. Most of the comedy that the main characters bring to the film is the men's perspective on women, and what they think is attractive and also the eccentric group of friends watching the whole debacle. Although Rick and Fred are the only two guys with a hall pass for the week, they have a group of male friends played by Richard Jenkins, Stephen Merchant, Larry Joe Cambell and J.B. Smoove that tag along for the ride. The ideas that this group of men in their 40s come up with to get young women are so ridiculous and laughable that it shows how out of touch they are with the way females work.
The women have escapades as well during their time off of marriage. Maggie flirts with a baseball coach, while Grace entertains the attention of a college jock. It's funny to see the men trying so hard for attention without success while the women just need to be in the proximity of men to get attention. You really get to see the subtle and also the not-so-subtle differences between how the male and female minds work when it comes to attracting the opposite sex.
The cast is made up of proven comedians who have starred in many a film and television show and have the comedic timing down cold. I wish that a few more of them would have broken away from similar characters they have played in the past to show a different type of comedy we haven't seen before. But there are many little cameos and small roles for various comedians that get to showcase their talents.
The story is pretty simple and while you go into it looking for laughs, there are also some tender moments towards the end that help balance out the outrageous scenarios that play out during the film. The dialogue may be cheesy at times and there may be a speech or two in the film that you have seen before — this film tries to have heart and more to it than just jokes about body parts and sexual acts.
The Farrelly brothers are known for taking a joke and then going even further with it than you would expect. This produces some mixed reactions, most are of laughing, but then again some are of cringing. Most people I asked who attended the screening with me said that they liked the movie, while a few said it was just too raunchy for them; that's why I'm making my own genre for this film and calling it a "raunch-com." A mixture of over the top comedic moments thoroughly mixed in with a lot of toilet and sexual humor. "The Hangover" pushed the boundaries on jokes, but the thing that makes "Hall Pass" different is that it goes even deeper into the joke.
The Farrelly brothers have done it again in making a comedy that is unexpected and surprises you, and although you may wince, some things are so gross and outrageous you can't help but laugh at it. I didn't think it was the funniest movie ever, but a lot of people told me that it was probably their new favorite comedy..
If you like your comedy on the dark and dirty side, then head out to see "Hall Pass" in theaters Feb. 25. "Hall Pass" is rated R for crude and sexual humor throughout, adult language, nudity and drug use.
. . .
Follow Adam Poynter on Twitter at http://twitter.com/CCWGGuy.
And don't forget to "Like" It's Just Movies on Facebook at
http://www.facebook.com/itsjustmovies.