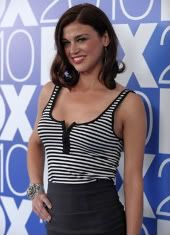 Adrianne Palicki, a "Friday Night Lights" favorite, has landed the coveted Wonder Woman role.
Although the actress from Ohio is not listed among my top five choices, Palicki has the look, somewhat, but she doesn't scream Amazon warrior. Not at all.
Suddenly I'm reminded of the failed "Bionic Woman" series. Hopefully, my pre-judgment will be proven wrong once David Kelly's re-imagining of the powerful super heroine hits the small screen. But unfortunately, I have a feeling it won't be. I'll watch it regardless, at least the first few episodes.
"Smallville" ends its 10-season run this year and I'll be needing a superhero fix. "The Cape" just didn't cut it. Is that still on the air by the way?
Set in Los Angeles, in Kelly's reboot, Wonder Woman will be a vigilante crime fighter at night and a successful businesswoman during the day. I wonder if the costume will be akin to the new one, which debuted in Wonder Woman Issue #600.
At any rate, Miss Palicki will be the second woman in television history to portray the popular DC Comic's character. The first of course was the lovely Lynda Carter, who donned the lasso and bulletproof bracelets back in1975.
I wish the young starlet luck, as she has some big boots to fill.
So, do you think Adrianne will make a good Wonder Woman? Sound off to the right with your opinions.
. . .
Follow Sherice Antoinette on Twitter at http://twitter.com/ShericesPieces.
And don't forget to "Like" It's Just Movies on Facebook at
http://www.facebook.com/itsjustmovies.