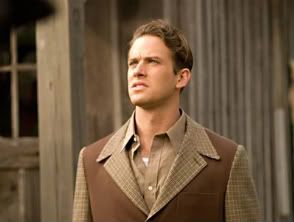 After weeks of discussion, Variety has confirmed Armie Hammer ("The Social Network") will don a pair of cowboy boots complete with spurs in Gore Verbinsnki and Jerry Bruckheimer's "The Lone Ranger" opposite Johnny Depp as Tonto.
"The Lone Ranger" — which is set for a 2012 release — will start filming shortly after Depp has finished "Dark Shadows" with Tim Burton. The star of the "Pirates of the Caribbean" films has been attached to this project since 2008, but due to a busy schedule, and script changes, "The Lone Ranger" was put on hold.
Screenwriters Ted Elliot and Terry Rossio penned a script in 2009, but as of 2010, Jason Haythe (who adapted "Revolutionary Road") was commissioned by Bruckheimer to re-write the screenplay. Details on the synopsis are vague, but what is known is that this re-telling will be an origin story, which begins with a group of Texas Rangers chasing down a gang of outlaws lead by Butch Cavendish. Butch's gang ambushes the Rangers, leaving one lone survivor who is nursed back to health by an American Indian named Tonto.
What will be interesting is how this re-envisioning plays out. Depp said in a recent interview with Entertainment Weekly that he wants to reinvent Tonto.
I remember watching it as a kid, with Jay Silverheels and Clayton Moore, and going: "Why is the f—ing Lone Ranger telling Tonto what to do?" liked Tonto, even at that tender age, and knew Tonto was getting the unpleasant end of the stick here. That's stuck with me. And when the idea came up [for the movie], I started thinking about Tonto and what could be done in my own small way try to — "eliminate" isn't possible — but reinvent the relationship, to attempt to take some of the ugliness thrown on the Native Americans, not only in "The Lone Ranger," but the way Indians were treated throughout history of cinema, and turn it on its head.
That's all well and good, but shouldn't the part go to an American Indian? Perhaps an actor who is struggling for work? In the same discussion, Depp admits to being part Cherokee.
I guess I have some Native American somewhere down the line. My great grandmother was quite a bit of Native American, she grew up Cherokee or maybe Creek Indian. Makes sense in terms of coming from Kentucky, which is rife with Cherokee and Creek.
The ongoing Hollywood trend of casting actors who darn near pass for White in ethnic leading roles is frustrating. See "Street Fighter: The Legend of Chun Li," "The Last Airbender" and now "Akira." Of course, Depp is a bankable actor and with him as lead, the film should bring in $60 million or more opening weekend. Armie Hammer is no slouch, either. His star has been on the rise since "The Social Network" and with his charisma and skill, his career will certainly flourish.
Already starring alongside A-lister Leonardo DiCaprio in Clint Eastwood's "Hoover," Hammer will be further propelled to superstar status by "The Lone Ranger."
What are your thoughts on "The Lone Ranger" movie? Will you be there opening weekend?
. . .
Follow Sherice Antoinette on Twitter at http://twitter.com/ShericesPieces.
And don't forget to "Like" It's Just Movies on Facebook at
http://www.facebook.com/itsjustmovies.