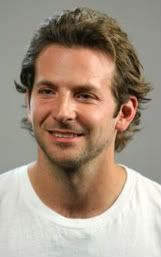 If you want to talk about the most sought-after actors at this moment, it is possible Bradley Cooper is at the very top of that list.
The star of "The Hangover" has really exploded and is involved in various exciting upcoming projects. For starters, we will be seeing him shortly in Legendary Pictures' "The Hangover Part II" — which I have no doubt will be a hit. Then, most recently, we heard the news Cooper is in talks to star in "The Crow" remake for Relativity Media.
Now, we are hearing Legendary Pictures and Warner Brothers want him to star in their grand-scale production of John Milton's 17th-century poem "Paradise Lost," where Cooper would play Lucifer.
"Paradise Lost" — which could be filmed in 3D — deals with the the expulsion of Adam and Eve from paradise and the battle between the angels, archangel and Lucifer.
With Thomas Tull and Jon Jashni producing and Alex Proyas directing, this movie is bound to be epic.
Are you a fan of Cooper? What do you think about all these projects he is involved in? Which are you most excited for?
. . .
Follow Josue Sanchez on Twitter at http://twitter.com/Josue_can.
And don't forget to "Like" It's Just Movies on Facebook at
http://www.facebook.com/itsjustmovies.