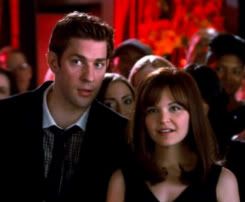 Romantic comedies are a dime a dozen and typically follow the same formulaic script as the last. "Something Borrowed" is not that different, but it does have a few exceptions. It is a look at how you re-examine your life when you reach your thirties and it's more about the flaws of the characters than their attributes. This dramatic tale is quirky and funny at times and some of the best lines come from the secondary characters played by John Krasinski and Ashley Williams.
In the film, a reserved lawyer, Rachel (Ginnifer Goodwin), is turning 30 and on her birthday she gets drunk and sleeps with Dex (Colin Egglesfield), the man with whom she has been secretly in love since college. The only problem is that he is engaged to her best friend, the domineering and self-centered Darcy (Kate Hudson). So Rachel and Dex must figure out what happened between them as the wedding is less than two months away. Along on the journey to her admitting the truth to herself and everyone else is Rachel's best friend Ethan (John Krasinski), who tells it like it is. Was it just wedding jitters or could Dex possibly have feelings for her? They must try to work it all out before it's too late.
One of the hardest things to do when watching a movie is to root for any character you don't find appealing, and every single person in this movie is an overblown caricature of a stereotype. They all seem to secretly despise one another and although they may not say it, their actions prove it to be true. Even our heroine Rachel, for whom we are meant to feel sympathy, loses her moral compass at times and then refuses to grant herself any sort of happiness by giving in to every demand Darcy has for her.
Krasinski plays the one unapologetically honest person throughout the film. Basically the voice of reason, he carries this title until the very end when it turns out even he was keeping secrets. He is the saving grace for what little this films offers because without his charm and wit, the movie would have been unbearably dark. Another worthy performance was that of Ashley Williams, who plays Claire, a friend of both Rachel and Darcy, who is obsessed with Ethan and her pursuit to woo him throughout the film were some of its most comedic moments.
The main triad of characters is where things really fell apart. You see the chemistry between Rachel and Dex, but Darcy is so aggravatingly unappealing that it is beyond me why anyone would want to marry or be best friends with her. I can't review this movie without pointing to the similarities of Kate Hudson's Darcy in "Something Borrowed" and her character Liv in "Bride Wars." These two parts could have been from different drafts of the same script and it appears that Hudson is being typecast as the abrasive and controlling best friend.
Even though the movie has funny and romantic moments to it, the typical storyline and twists, mixed with the less-than-appealing main characters, makes this a movie best suited to being viewed at home on DVD when you have nothing better to do.
"Something Borrowed" — which also stars: Steve Howey, Geoff Pierson and Jill Eikenberry — is a movie adaptation of the popular book of the same name by Emily Griffin. Directed by Luke Greenfield ("The Girl Next Door" and "The Animal") and produced by Hilary Swank, "Something Borrowed" hits theaters May 6.
. . .
Follow Adam Poynter on Twitter at http://twitter.com/CCWGGuy.
And don't forget to "Like" It's Just Movies on Facebook at
http://www.facebook.com/itsjustmovies.