Cantonfilm.com, in association with the Canton Palace Theatre, will host the Canton Film Festival 2011 in downtown Canton, Ohio, on Oct. 13, 14 and 15. During this three-day Film Forward event, the public will get the chance to screen the short films of independent directors from across the country.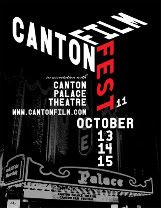 This Film Forward event is a chance for up-and-coming filmmakers to showcase their work. After the entries of each category are screened, there will be an awards ceremony honoring the top-rated films in that respective category, as determined by a panel of judges. Winners will receive prizes and money for their submissions. Winners will receive prizes and money for their submissions. Directors who wish to enter their work should visit www.cantonfilm.com for submission guidelines and forms.
The Canton Film Festival 2011 is not just a chance for filmmakers to have their work screened by the public, however. Attendees will also have the chance to learn from the pros. On Friday, Oct. 14, North East Ohio horror director Bill Schotten will show one of his films, followed by a question-and-answer session. On Saturday, Oct. 15, Megan Areford of the Syfy Network's "Face Off" will conduct a special effects make-up workshop, demonstrating the secrets of the art of make-up. Hollywood director Drew Daywalt, a Kent State Grad, will be the feature director on Saturday night, Oct. 15, showcasing some of his popular shorts and clips from his work on the MTV show "Death Valley."
Cantonfilm.com is dedicated to cultivating the talent within North East Ohio's film-making and creative community. Through sponsoring events such as the Canton Film Fest 2011, as well as through education, Cantonfilm.com strives to put North East Ohio on the independent film-making map.
. . .
"Like" It's Just Movies on Facebook at http://www.facebook.com/itsjustmovies.