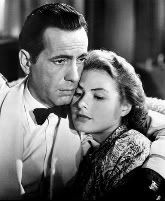 The quintessential Hollywood love story returns to the big screen this spring as Turner Classic Movies Presents the "Casablanca" 70th Anniversary Event on March 21 at 7 p.m. local time, with special matinees in select theaters. Movie audiences in theaters nationwide will be able to experience the time-honored classic in a stunning digital presentation by NCM Fathom Events, Turner Classic Movies (TCM) and Warner Home Video.
The event will be introduced by TCM host Robert Osborne who will discuss the film's enduring legacy and reveal some of its fascinating behind-the-scenes stories. "Casablanca," which starred Humphrey Bogart, Ingrid Bergman and Paul Henreid, became one of the most romantic films in the history of cinema. It won three Academy Awards in 1944 including Best Picture, Best Director and Best Screenplay.
Tickets are available at participating theater box offices and online at www.FathomEvents.com. The event will be broadcast to nearly 500 select movie theaters across the country through NCM's exclusive Digital Broadcast Network. For a complete list of theater locations and prices, visit the NCM Fathom website at www.fathomevents.com/upcoming/alllocations.aspx?eventid=1067 (theaters and participants are subject to change).
Movie critic Leonard Maltin calls "Casablanca" the "best Hollywood movie of all time." The American Film Institute (AFI) voted it the screen's greatest love story and the No. 3 film of all time. The film's characters, dialogue and music have all become iconic in Hollywood movie history.
"There are few things more thrilling for movie lovers than being able to experience a true classic like 'Casablanca' the way it was originally intended: on the big screen," said Dennis Adamovich, senior vice president of brand and digital activation for TCM, TNT and TBS. "We're proud to take part in this exciting event as we extend the magic of Turner Classic Movies to theaters across the country."
Casablanca: easy to enter, but much harder to leave, especially if you're wanted by the Nazis. Such a man is Resistance leader Victor Laszlo (Paul Henreid), whose only hope is Rick Blaine (Bogart), a cynical American who sticks his neck out for no one – especially Victor's wife Ilsa (Bergman), the ex-lover who broke his heart. Ilsa offers herself in exchange for Laszlo's transport out of the country and bitter Rick must decide what counts more – personal happiness or countless lives hanging in the balance.
"Like many, I have fond memories of watching 'Casablanca' with my family," said Shelly Maxwell, executive vice president of Fathom Events. "Fans of this timeless cinematic treasure won't want to miss this one-time opportunity to experience 'Casablanca' on the big screen once again as Humphrey Bogart and Ingrid Bergman take us back to the golden age of Hollywood."
Warner Home Video will release the "Casablanca" 70th Anniversary Edition
on March 27 featuring a three-disc limited and numbered gift set including the remastered feature on both Blu-ray and DVD with more than 14 hours of bonus material. The keepsake box also includes a compilation of three comprehensive feature length documentaries, a hard-cover 62-page book with never-before-seen on-set photography, sketches and production history, a reproduction of the original 1942 French theatrical poster as well as a collectible set of drink coasters.
. . .
"Like" It's Just Movies on Facebook at http://www.facebook.com/itsjustmovies.