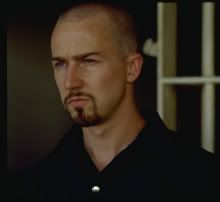 When Tony Gilroy said Matt Damon wasn't returning to the "Bourne" series, I wasn't pleased. Gilroy stated "The Bourne Legacy" wasn't a reboot or a recast or prequel. "Legacy" is to be viewed as a whole new chapter entirely — a stand-alone venture. Even when reading that, I was still apprehensive. How can Gilroy possibly separate this new project from the well-known "Bourne" franchise which starred Damon as Jason Bourne? When you see the word "Bourne" do you think of Matt Damon? I know I do.
Then, months later, it was announced Jeremy Renner would be the new lead. Renner, of course, is a wonderful actor who definitely has what it takes to be the next big action hero. Even though Renner was only in "Thor" for a few mere minutes as Hawkeye, he showed just how badass he could be and from what I can tell from Renner's onscreen swagger, he'll be a whole different kind of badass.
Okay then, not a bad choice.
Now,Variety is reporting Edward Norton is in talks to play opposite Renner as the villain. It's official, now I'm definitely onboard. Nevermind the gossip which followed Norton post "The Incredible Hulk," he will make the perfect antagonist. "Primal Fear" and "American History X" are two of my favorite Norton films. I am anxious to see what he'll unleash on Renner in "The Bourne Legacy."
As for a female lead? Rachel Weisz will play Renner's love interest. So far, the cast is shaping up very nicely.
"The Bourne Legacy" — written and directed by Tony Gilroy — will shoot this September for a Aug. 3, 2012, release date.
. . .
Follow Sherice Antoinette on Twitter at http://twitter.com/ShericesPieces.
And don't forget to "Like" It's Just Movies on Facebook at
http://www.facebook.com/itsjustmovies.