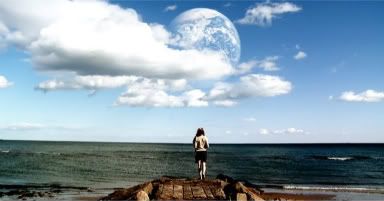 Have you ever wondered what it would be like if you had a doppelganger? What would they be like? What would they be doing? How different would they be from you? That idea plays a central role in the indie sci-fi drama "Another Earth," which debuted at the Sundance Film Festival in January. The film stars, was co-written and was produced by Sundance breakout Brit Marling, whose "Sound of My Voice" also premiered at the festival.
In "Another Earth," Marling plays Rhoda Williams, an ambitious student who causes a car crash the night a duplicate Earth is discovered. Distracted by the sight of the strange new planet in the sky, Rhoda inadvertently changes the life of a man named John Burroughs (William Mapother) when the accident kills his wife and child.
Years later, Rhoda befriends John as an exploration of "Earth 2" is about to take off. Scientists have discovered that "Earth 2" is an exact copy of the Earth we know, down to the same people. Rhoda enters an essay contest to join the expedition, in hopes of learning what her duplicate self is like.
I'm pretty intrigued by this movie. I like the idea of such low-budget, understated sci-fi that's more about the relationships we form and the choices we make than a lot of action and technology. Get a feel for the film's vibe in the three clips below. "Another Earth" opens in limited release July 22.
In the first clip, Rhoda's parents learn her plans for traveling to "Earth 2" on a newscast before reporters and photographers swarm their yard.
Next, Rhoda tells John the story of a Russian cosmonaut and his struggles with a mysterious tapping sound.
In the last clip, Rhoda and John have a celebratory drink after she tells him she's going to "Earth 2."
. . .
Follow Alexa Milan on Twitter at http://twitter.com/alexamilan.
And don't forget to "Like" It's Just Movies on Facebook at
http://www.facebook.com/itsjustmovies.