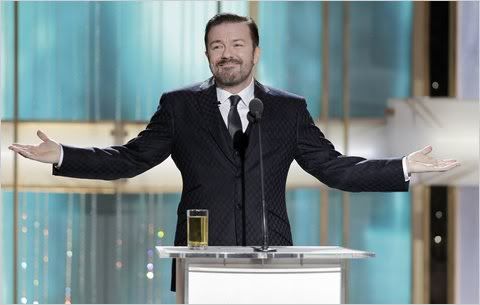 Nearly a week after the Golden Globes, people are still talking about whether host Ricky Gervais went too far with some of his jabs. Yes, some of his comments were a bit unnecessary (for instance, his closing remark that "I'd like to thank God for making me an atheist"). Yes, it probably wasn't in the best taste to insult the organization that hired him as host (before the introduction of the head of the Hollywood Foreign Press Association, Gervais said, "I helped him off the toilet and popped his teeth in").
Gervais' humor may have been more appropriate for a Comedy Central roast than a major awards ceremony, but that's exactly what made the show so interesting. Gervais kept things fresh with his dry, rude humor when the three-hour broadcast started to feel tired. His outrageous jokes aren't what made the ceremony uncomfortable — it was the reaction of the celebrities in the crowd. All Gervais' jokes did was show how Hollywood tends to take itself too seriously. If the crowd rolled with the punches and laughed it off, they would have come across more favorably. Instead, most of the Hollywood elite in the room came across as having no sense of humor.
Some of the jabs really pushed the boundaries, like Gervais' insinuation that "some famous Scientologists" are gay, which got some laughs and some awkward chuckles. But did Bruce Willis really need to look so grumpy after Gervais introduced him as "Ashton Kutcher's dad"?
I'm sure the Hollywood Foreign Press Association didn't love his quip, "I'd like to quash this ridiculous rumor going around that the only reason 'The Tourist' was nominated was so the HFPA could hang out with Johnny Depp and Angelina Jolie. That is rubbish. That is not the only reason. They also accepted bribes." But I applaud Gervais for having the guts to say what everyone else was thinking and call out the HFPA for its absurd obsession with star power.
Gervais' brash sense of humor is nothing new. If the HFPA couldn't deal with it, then perhaps they should have found a different host. But they hired Gervais to tell his own jokes, and that is exactly what he did. I wouldn't expect him to be anything but blunt.
If only more people handled his jabs like Robert Downey Jr. When Gervais gave it to him, he gave it right back. After reciting a list of some of Downey's films, Gervais said, "But many of you in this room probably know him best from such facilities as the Betty Ford Clinic and Los Angeles County Jail." But always the cool one, Downey smirked and replied, "Aside from the fact that it's been hugely mean-spirited with mildly sinister undertones, I'd say the vibe of the show has been pretty good so far, wouldn't you?," and then launched into his hilarious and sexually suggestive introduction of the best actress in a comedy nominees.
I wonder what Downey's plans are on Globes night next year? Perhaps the HFPA has found its next host?
But what do you think? Did Gervais go too far? Or are the HFPA and some celebrities getting worked up over nothing? Sound off in the comments section.
. . .
Follow Alexa Milan on Twitter at http://twitter.com/alexamilan.