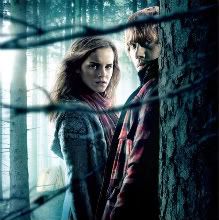 With an estimated worldwide box office total of more than $476 million, Warner Bros. Pictures' "Harry Potter and the Deathly Hallows: Part 2" shattered multiple domestic and international box office records in a history-making opening weekend. The announcement was made today by Warner Bros. Pictures President of Domestic Distribution Dan Fellman and President of International Distribution Veronika Kwan-Rubinek.
The finale of the film series, "Harry Potter and the Deathly Hallows: Part 2" earned a stunning $168.5 million at the domestic box office, which not only is the biggest Harry Potter opening weekend but also obliterated the industry's opening weekend record, including holiday weekends. Among the other records broken were single-day box office (Friday at $92.1 million), Friday box office, and opening day box office.
With the film opening day-and-date in 59 territories, the international box office take was a staggering $307 million, making it the biggest international weekend of all time. Led by record-breaking grosses in the UK ($36.6 million) and Australia ($26.7 million), all markets have performed exceedingly well, including Germany ($25.7 million), France ($23.9 million) and Japan ($21.5 million).
Globally, it also broke the IMAX opening weekend record with a worldwide gross of $23.5 million, which includes setting a new record in North America with $15.5 million.
The film began breaking records even before its opening, as unprecedented advance ticket sales gave the first indication of just how huge the box office bow would be. Midnight opening screenings not only met but exceeded those expectations, with $43.5 million at the domestic box office alone.
Dan Fellman stated, "These numbers are amazing, but they are only part of the story. It is impossible to quantify how thrilled and grateful we all are that both critics and audiences—especially loyal Harry Potter fans—continue to support the film. This is the culmination of an extraordinary decade, and a reflection of the hard work and dedication of many, many people on both sides of the camera, beginning with the brilliant J.K. Rowling, as well as producer David Heyman. We applaud them all."
Veronika Kwan-Rubinek remarked, "Harry Potter is truly a cultural phenomenon the world over. Whether in German, French, Japanese, Russian, or any language, international audiences have embraced the Harry Potter films over the years, with the powerful finale punctuating just how special the property is. We congratulate everyone associated with the films on this monumental achievement."
"Harry Potter and the Deathly Hallows – Part 2" is the final adventure in the Harry Potter film series. In the epic finale, the battle between the good and evil forces of the wizarding world escalates into an all-out war. The stakes have never been higher and no one is safe. But it is Harry Potter who may be called upon to make the ultimate sacrifice as he draws closer to the climactic showdown with Lord Voldemort. It all ends here.
Daniel Radcliffe, Rupert Grint and Emma Watson reprise their roles as Harry Potter, Ron Weasley and Hermione Granger. The film's ensemble cast also includes Helena Bonham Carter, Robbie Coltrane, Warwick Davis, Tom Felton, Ralph Fiennes, Michael Gambon, Ciarán Hinds, John Hurt, Jason Isaacs, Matthew Lewis, Gary Oldman, Alan Rickman, Maggie Smith, David Thewlis, Julie Walters and Bonnie Wright.
The film was directed by David Yates, and produced by David Heyman, David Barron and J.K. Rowling. Steve Kloves adapted the screenplay, based on the novel by J.K. Rowling. Lionel Wigram is the executive producer.
. . .
"Like" It's Just Movies on Facebook at http://www.facebook.com/itsjustmovies.