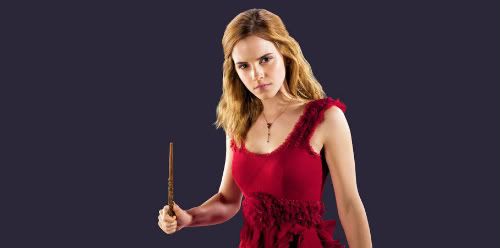 Apparently, Emma Watson drank too much Butterbeer before filming the poignant "Deathly Hallows" scene with Rhys Ifans.
Unlike the studious and serious Hermione, in the behind the scenes clip below, the adorable actress couldn't seem to hold it together. What's even more endearing is that her laugh is apparently infectious, given the reaction from fellow cast mates Daniel Radcliffe and Rupert Grint in additional outtakes included toward the end.
Hopefully, more fun footage will be included in the April 15 DVD and Blu-Ray release of "Harry Potter and the Deathly Hallows: Part 1".
Yes, I have a copy pre-ordered.
Here it is in both the Trailer Addict and YouTube versions:
. . .
Follow Sherice Antoinette on Twitter at http://twitter.com/ShericesPieces.
And don't forget to "Like" It's Just Movies on Facebook at
http://www.facebook.com/itsjustmovies.