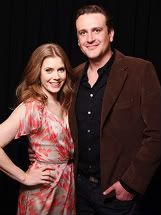 Amy Adams is currently living out my dreams as a kid. When I was young, I would have loved to have grown up to have been Lois Lane or to hang out with the Muppets. (And, of course, I could be on a plane right now if the opportunity arose to do either!).
Adams is on a hot streak, but it's hard to deny she hasn't earned it. Her range seems nearly unlimited. She can easily go from the endearingly-sweet princess of "Enchanted" to the rough and tumble love interest in "The Fighter."
And Jason Segel (who I love on "How I Met Your Mother") isn't doing too shabby for himself either. Following his success with "Forgetting Sarah Marshall," Segel is not only making the next Muppet movie, he got to create his own Muppet named Walter. How fun would that be?
Below, you can see the lucky duo talking to Access Hollywood at ComicCon about their upcoming projects.
. . .
Follow Kathleen Collins on Twitter at http://twitter.com/Super_Kathleen.
And don't forget to "Like" It's Just Movies on Facebook at
http://www.facebook.com/itsjustmovies.