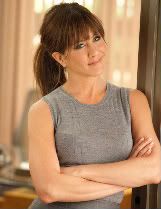 WaterTower Music will release "Horrible Bosses: The Original Motion Picture Soundtrack" through all digital retailers on July 5, 2011.
This audio companion to New Line Cinema's comedy will include songs composed by Grammy Award winner and Emmy Award nominee Christopher Lennertz ("Supernatural," "Lemonade Mouth"). The soundtrack also features Mike McCready of Pearl Jam, Stefan Lessard of Dave Matthews Band, and Money Mark, a long-time Beastie Boys collaborator, in addition to musicians Matt Chamberlain, David Levita, Aaron Kaplan, Victor Indrizzo, Chris Chaney, and Davey Chegwidden.
"I was pretty stoked when Christopher asked me to play guitar on some of these tracks and to collaborate and brainstorm with all these amazing players," McCready said of the project.
Added Lessard, "Chris has such a wonderful vibe. It was a pleasure to work on this film and with all these guys and I had a lot of fun throwing down these bass lines."
In the comedy "Horrible Bosses," Jason Bateman ("Couples Retreat"), Charlie Day ("Going the Distance") and Jason Sudeikis ("Hall Pass") star as three hapless workers who realize that the only way to make their daily grind more tolerable would be to grind their intolerable bosses into dust. Quitting is not an option so, with the benefit of a few-too-many drinks and the dubious advice of a hustling ex-con, the three friends devise a convoluted and seemingly foolproof plan to rid themselves of their respective employers…permanently. But, even the best laid plans are only as foolproof as the brains behind them, Jennifer Aniston ("He's Just Not That Into You"), Colin Farrell ("Crazy Heart") and two-time Oscar® winner Kevin Spacey ("American Beauty," "The Usual Suspects") star as the unbearable bosses and Oscar® winner Jamie Foxx ("Ray") stars as the plotters' unlikely mentor. The main cast also includes veteran actor Donald Sutherland and Julie Bowen (TV's "Modern Family").
"Horrible Bosses" is directed by Seth Gordon ("Four Christmases," "The King of Kong: A Fistful of Quarters") and produced by Brett Ratner and Jay Stern. The screenplay is by Michael Markowitz and John Francis Daley & Jonathan Goldstein, story by Markowitz. Toby Emmerich, Richard Brener, Michael Disco, Samuel J. Brown and Diana Pokorny serve as executive producers, with John Rickard and John Cheng as co-producers. The creative film-making team includes director of photography David Hennings; production designer Shepherd Frankel; editor Peter Teschner; costume designer Carol Ramsey; and composer Christopher Lennertz. Dana Sano is the music supervisor. It is rated R for crude and sexual content, pervasive language and some drug material.
"Horrible Bosses" opens nationwide on Friday, July 8, 2011.
. . .
"Like" It's Just Movies on Facebook at http://www.facebook.com/itsjustmovies.