It's been almost a year since the news about the upcoming Judge Dredd movie, titled "Dredd," was announced, starring Karl Urban as the hero, and there hasn't almost been an update on the project since then. But now, we finally have an update — a picture of Urban as Judge Dredd.
I must say that Urban's Dredd definitely looks much better than the version that was made back in 1995, starring Sylvester Stallone as the Judge — Urban's version of the suit looks more serious and appropriate for a movie adaption of a comic book character.

I'm looking forward to get to know this character a lot better through this movie, because to me, he sounds like an interesting character to explore. I hope that we will get more updates in the coming months because there has been too much silence about this film.
If you need a reminder about the movie, here's the film's synopsis:
"Dredd" takes us to the wild streets of Mega City One, the lone oasis of quasi-civilization on Cursed Earth. Judge Dredd (Urban) is the most feared of elite Street Judges, with the power to enforce the law, sentence offenders and execute them on the spot – if necessary. The endlessly inventive mind of writer Alex Garland and the frenetic vision of director Peter Travis bring "Dredd" to life as a futuristic neo-noir action film that returns the celebrated character to the dark, visceral incarnation from John Wagner and Carlos Ezquerra's revered comic strip.
We'll keep you posted about "Dredd" — in the meantime, let us know what you think of Karl Urban's look as Judge Dredd, by hitting with your comments to the right.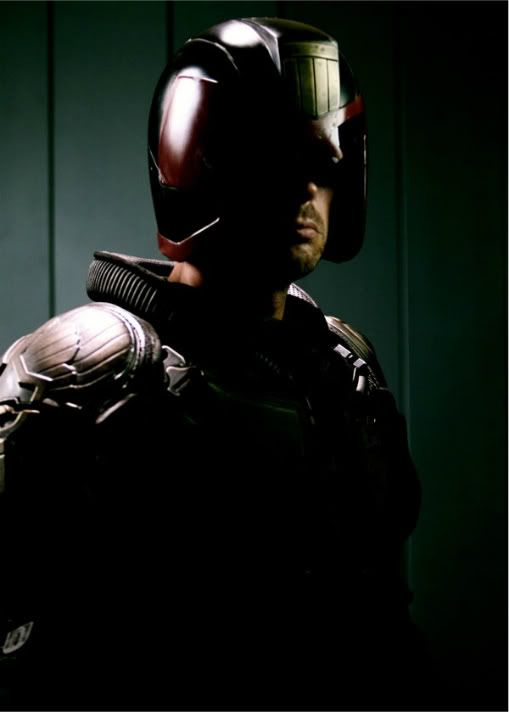 . . .
Follow Andy Behbakht on Twitter at http://twitter.com/Haoh93.
And don't forget to "Like" It's Just Movies on Facebook at
http://www.facebook.com/itsjustmovies.