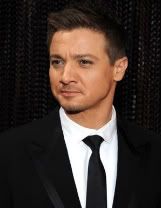 If I was an actor, I think I would want Jeremy Renner's agent. It seems like every time there is a plum role in a movie franchise up for grabs, Renner is in the mix — and he certainly has pulled in his fair share those roles.
The actor — who broke out as the lead in "The Hurt Locker" — will play Hawkeye in "Thor" this summer and in "The Avengers" next summer. And, as mentioned yesterday, there is talk of moving Hawkeye over to his own movie series. Additionally, Renner will have a role in "Mission: Impossible-Ghost Protocol" — due in theaters Dec. 16.
And now, Renner (who is repped by CAA and Untitled, for the record) has an offer on the table to take over the Bourne franchise from Matt Damon starting in "The Bourne Legacy."
The Tony Gilroy-helmed film would not center the character of Jason Bourne, however. Renner would play a different character — allowing for the possibility of a Damon re-appearance in the series).
According to Variety, other actors in contention included Garret Hedlund, Taylor Kitsch, Luke Evans, Joel Edgerton, Shia LaBeouf and James McAvoy.
. . .
Follow Sean Gerski on Twitter at http://twitter.com/DoubleDown44.
And don't forget to "Like" It's Just Movies on Facebook at
http://www.facebook.com/itsjustmovies.