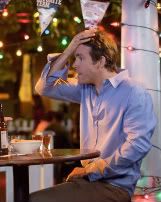 Growing up together, Mitch (Ryan Reynolds) and Dave (Jason Bateman) were the best of friends, but as the years have passed they've slowly drifted apart. Dave is an overworked lawyer, husband and father of three, and Mitch has remained a single, quasi-employed man-child who has never met a responsibility he liked.
To Mitch, Dave has it all: a beautiful wife (Leslie Mann), kids who adore him and a high-paying job at a prestigious law firm. To Dave, living Mitch's stress free life without obligation or consequence would be a dream comes true. Following a drunken night, they both wish for each other's lives and wake up in the other person's body. After a little freaking out, they realize that some fun and new experiences can come out of this situation. The longer they remain each other, the more they learn that not everything in each other's lives is as perfect as it seems.
Yes it is another body switching movie, but unlike "Freaky Friday," this is an adult comedy. Director David Dobkin ("Wedding Crashers" and "Fred Claus") is pairing with the team that wrote "The Hangover" and there is bound to be some seriously hilarious situational comedy. Reynolds, Bateman and Mann are some great comedic actors and I know they will go full out to get a laugh. For a little bit of age and wisdom, there is the great Alan Arkin, who plays Reynolds' estranged father, and there is the tempting Olivia Wilde as Bateman's hot assistant.
My prediction is that even though this movie has a familiar premise, it's going to be funny and over the top. The trailer made me chuckle a few times, so it looks to be a movie worthy of checking out in your local theater when it opens.
. . .
Follow Adam Poynter on Twitter at http://twitter.com/CCWGGuy.
And don't forget to "Like" It's Just Movies on Facebook at
http://www.facebook.com/itsjustmovies.