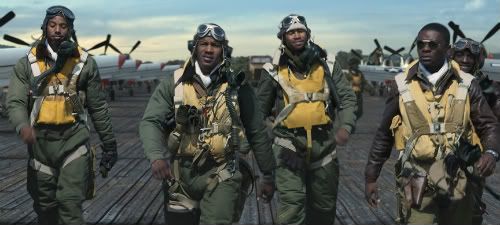 A high-flying action epic inspired by the heroic exploits of the first all African-American aerial combat unit, the Lucasfilm Ltd. production of "Red Tails" will launch Jan. 20, 2012, released by Twentieth Century Fox. Produced by Rick McCallum and Charles Floyd Johnson, the WWII actioner is directed by Anthony Hemingway ("Treme," "The Wire," "Battlestar Galactica").
"I am humbled and honored to direct the story of the Tuskegee Airmen – heroes who have paved the way so others could have the opportunity to pursue their dreams," said Hemingway. "To be selected by George Lucas and Rick to direct this film was more than my wildest dreams come true. It's been a blessing to work with them, along with the amazingly talented artists at Industrial Light & Magic. I've grown a lot on many levels from this experience. As director, I had the fortune to work with a highly skilled crew from the Czech Republic, U.K. and the U.S., along with a remarkably talented group of actors. The resonant beauty, strength and dedication of our heroes is reflected in the powerful ensemble cast."
Red Tails stars Oscar winner Cuba Gooding Jr., Oscar nominee Terrence Howard, Emmy winner Bryan Cranston, Nate Parker, David Oyelowo, Tristan Wilds, Method Man, Kevin Phillips, Rick Otto, Lee Tergesen, Andre Royo, Ne-Yo, Elijah Kelley, Marcus T. Paulk, Leslie Odom Jr., Michael B. Jordan and Daniela Ruah ("NCIS").
"I've wanted to do this film for a great many years," said George Lucas, executive producer of Red Tails. "So it is especially gratifying to see it all come together. It has been a real pleasure to work with Anthony and the extraordinary cast on a project that we all passionately believe in. The Tuskegee Airmen were such superb pilots that it was essential for us to create visual effects that would live up to their heroism and put audiences in the cockpit with them. They were only in their early 20s when they performed these amazing feats. They became the best of the best — the top guns. It is an honor to bring to the screen a story inspired by their heroics."

OFFICIAL SYNOPSIS:
1944. As the war in Europe continues to take its toll on Allied forces, the Pentagon brass has no recourse but to consider unorthodox options – including the untried and untested African-American pilots of the experimental Tuskegee training program. Just as the young Tuskegee men are on the brink of being shut down and shipped back home, they are given the ultimate chance to show their courage. Against all the odds, with something to prove and everything to lose, these intrepid young airmen take to the skies to fight for their country – and the fate of the free world.
See the film's trailer HERE.
. . .
"Like" It's Just Movies on Facebook at http://www.facebook.com/itsjustmovies.