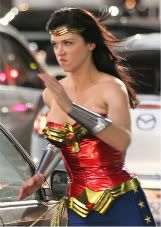 So there has been a lot of talk, good and bad, about David E. Kelley's re-imagining of the classic "Wonder Woman" television show. Hopes were high and, at first, the announcement of the casting of Adrianne Palicki as Wonder Woman was said to be a good decision based off of her looks, but did she have to raw-feminine prowess and strength to pull off the role?
Then they released a very simple picture of Adrianne Palicki in the new Wonder Woman costume, against a white background, in all her shimmering glory and the fans were not pleased. They had taken Jim Lee's redesigned costume from the comic books, altered it, and made her look like a latex dominatrix. There were so many things that were just off about the entire outfit — the pants were shiny, the boots were blue instead of their iconic red, and the hair and make-up made her look like a Tennessee beauty queen.
It looks like the studio and design department heard the outcry of fan-boys everywhere and made some immediate changes. In these first-look pictures of Palicki in action on the set of "Wonder Woman," I am pleased to say that I like the new and improved look. They changed the pants from shimmering latex to a more subdued darker blue, which helps to make them look more practical and helps to accent the stars on the sides of the pants. They got rid of the big hair and bright red lipstick, which changes her facial complexion and makes her seem more like a real everyday woman.
And the boots have had two changes. First, they made them red and took them from a ridiculous high heel to a very realistic and functional thick boot-heel instead (at least during the action sequences).

Update: Click HERE to see A New 'Wonder Woman' Image and Some Video Footage

These pictures of the Amazonian warrior goddess are an improvement over the original concepts, but it will take more than a few costume changes to win over fans. Seeing the show and chemistry of the characters will be the true test. What do you think? Did the new costume and seeing it in the real world help sway your vote from a "nay" to a "yay?" Leave a comment and let me know.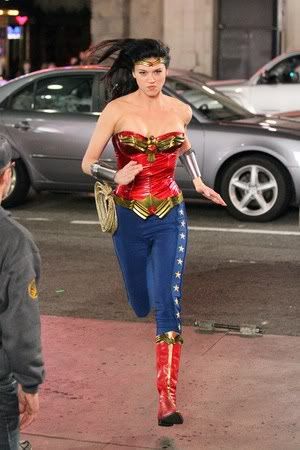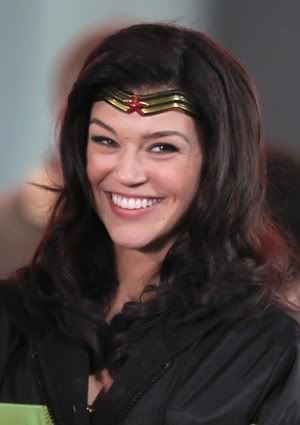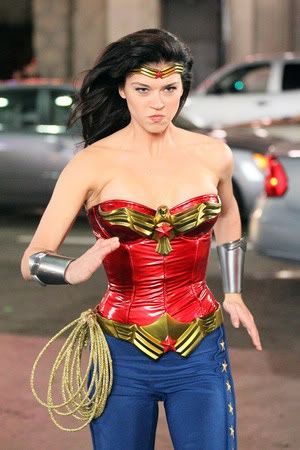 Picture Source: WENN.com
Click HERE for more of our coverage of the Wonder Woman TV and many other Wonder Woman-related stories.

. . .
Follow Adam Poynter on Twitter at http://twitter.com/CCWGGuy.
And don't forget to "Like" It's Just Movies on Facebook at
http://www.facebook.com/itsjustmovies.