It's hard to describe how devastated I was when I saw the latest "Harry Potter and the Deathly Hallows: Part 2" poster.
Part of me is ready to see the conclusion of the saga: the culmination of all the previous movies and final half of J.K. Rowling's novel. The other part of me, however, feels like Peter Pan and wants the series to never finish growing up, but as the poster says "It all ends."
The poster below makes sure you're really aware of how close the end is. Harry Potter and Lord Voldemort face each other with a wand between them in what is pretty obviously their final stand off. As those who are familiar with the series know, it was prophesied that neither could live while the other survived. So how will it end? Who will survive? Both Harry and Voldemort are looking grimey and Harry in particular looks like a bunch of blood poured out of his mouth. Will it really be the end?
Unfortunately for the muggles of the world who have been under Harry Potter's spell, after July we will have to look forward to a "Harry Potter"-less horizon. However, hopefully with the end will come closure and graduating onto new things.
"Harry Potter and the Deathly Hallows: Part 2" will hit theatres July 15 and stars Daniel Radcliffe, Emma Watson, Rupert Grint and Ralph Fiennes.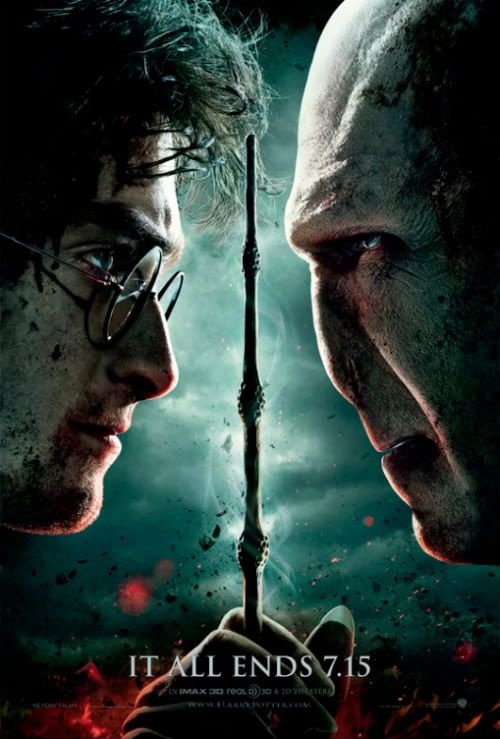 . . .
Follow Allison Higginbotham on Twitter at http://twitter.com/allisonbh.
And don't forget to "Like" It's Just Movies on Facebook at
http://www.facebook.com/itsjustmovies.